Last updated on September 26th, 2023.
Perhaps you're interested in cultivating a yoga practice, but you don't know which type of yoga is best for you. There's no time like the present to check out meditative and calming Yin Yoga, a slow yoga practice that takes its philosophy from traditional Chinese beliefs. For a quick teaser, we've included the complete list of the best Yin Yoga teacher trainings online here:
Yin Yoga is a form of yoga that will stretch and lengthen the body's muscles and connective tissues and increase flexibility. The practice can also be thought of as a kind of acupressure, with poses affecting different energy channels in the body. Those energy channels in turn affect the organs and other parts of the body. It's believed that Yin Yoga can work on blockages in the energy channels to improve a person's health and emotional outlook.
Yin Yoga is also know as a very slow practice; you may only do five poses for the entire class. It not only works on the muscles and connective tissues, it also is very meditative and can help reduce stress and anxiety in a practitioner. Yin yoga teacher trainees study not only Western anatomy, but Eastern medicine such as Chakra theory and energy pathways. Aspiring Yin yoga teachers must remember that all Yin yoga teacher training courses are different, but a teacher trainee may also study traditional Hindu texts such as the Bhagavad Gita and Patanjali's Yoga Sutras. 
As Yin Yoga is so slow, practitioners have time to check in with their body and make sure they are comfortable. People become more aware and are better able to make adjustments in their pose and notice the line between comfort and discomfort. Yin Yoga can help people heal from chronic pain or heal from injuries. And, with a regular Yin practice, students will find it easier to achieve mindfulness and enter a meditative state, for a calmer mind.
The 9 Best Yin Yoga Teacher Trainings Online
Deciding on the best Yin Yoga teacher trainings was difficult because each of the courses listed below are really well put together.  Most of them are available at your own convenience, meaning you can purchase the course and begin right away and  because they are online they are self paced. Any of these great courses will add to your knowledge of the yogic practices and more knowledge will aid future Yin Yoga teachers in helping their clients reduce stress and increase their health. 
Not only will these courses give students a deep understanding of the history of Yin Yoga, but they will also will give students a strong foundation in anatomy.  
Below, we'll provide you with in-depth reviews of great online Yin Yoga teacher training courses to help you choose the right course for the yogic path you are traveling. We'll also discuss how to achieve your Yin Yoga teacher training certification and give you specific steps to become a Yin Yoga teacher. So, read on and check out the links for the various Yin Yoga teacher training courses and discover the program that will set you on your way to becoming a highly qualified Yin Yoga teacher trainer.
Below are overviews of the top Yin Yoga online teacher training courses mentioned above. We've looked at prices, curriculum, the materials offered, and long-term connections with the course trainers for opportunities for further development.
1. YogaRenew: 20 Hour Yin Yoga Certification Program
YogaRenew has a program unlock the other's approach to  yin yoga teacher training program in that it emphasizes "a study of stillness." YogaRenew's curriculum also  focuses in on topics that intersect with one another, referencing it to the nature of yin yoga itself. YogaRenew lessons are divided into the following categories:
Philosophy
Anatomy
Benefits
History
Practice
Teaching
YogaRenew weaves each of these categories into the curriculum allowing for where these topics naturally cross paths. As yin yoga is an attempt to stretch the limits to open new waves of energy, the course follows the same philosophy and practice.
The approach to bringing these aspects together by YogaRenew offers a fresh and ranged practice to yin yoga teacher training. This approach, as mentioned, is designed to mirror the nature of yin yoga in all of its complexities.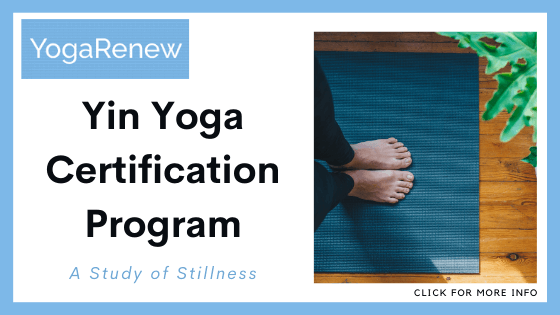 2. Yoga With Kassandra: 30-Hour Online Yin Yoga Teacher Training
Embark on a wonderful Yin Yoga Teacher Training from Yoga With Kassandra. Kassandra Reinhardt 's 30-hour online program is for aspiring yoga instructors and dedicated practitioners.
This comprehensive training offers a deep dive into the world of yoga, providing a holistic approach that nurtures the mind, body, and spirit. This program equips you with valuable skills and insights to share the gift of yoga with others.
Program highlights
Comprehensive curriculum.

The online yin yoga program covers a wide range of topics, including yoga philosophy, anatomy, alignment, sequencing, and meditation, ensuring a well-rounded education.

Personalized guidance.

Led by renowned instructor Kassandra Reinhardt, the program offers personalized guidance and mentorship to each participant, supporting their growth and development throughout the training.

Flexible learning.

With online modules and self-paced study options, the program provides flexibility for participants to balance their training with their existing commitments and lifestyle.

Community support.

Enrolling in the program connects you with a supportive community of like-minded individuals, offering networking opportunities and a nurturing environment to share experiences and insights.
What do I get
The online training is divided into two sections: Philosophy and Practical Applications, and Teaching Yin Yoga. The first section covers the history, origins, principles, benefits, and energetic aspects of Yin Yoga. 
As a yin yoga instructor, this course will strengthen your understanding of asanas, sequencing, theming, yoga philosophy, communication skills, empathy, and observation, making you a trusted and competent guide for your students.
You will also receive a FREE copy of Kassandra's book, "Yin Yoga: Stretch the Mindful Way", and a printable PDF Yin Yoga Teacher Training manual.
Why we love it
Yoga with Kassandra's Teacher Training offers a comprehensive curriculum that covers various aspects of yoga, enabling participants to become skilled and knowledgeable instructors. It is also recognized for continuing education by AFAA, NASM, NSCA, ACE Fitness, British Wheel of Yoga, Canadian Yoga Alliance and Canfitpro.
Additionally, the personalized guidance from renowned instructor Kassandra Reinhardt and the supportive community foster a positive and empowering learning experience.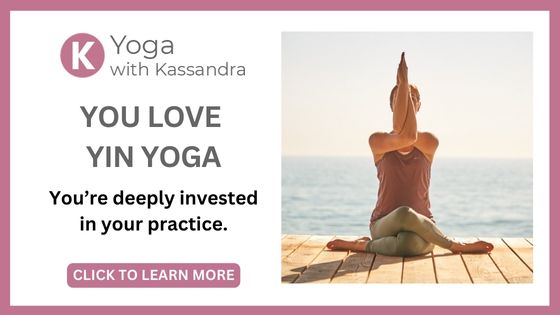 3. Loka Yoga School: Online Yin Yoga Teacher Training
Loka Yoga School is a full-fledged Yoga School with over 30 years of experience whose main operations is in Bali.  They've taken their expertise and the best of their instruction and created a self-paced Yin Yoga Teacher Training course accessible online.  They have a  dedicated team made up of practitioners completely committed to their fields of expertise.  If you're interested in becoming certified and specializing in Yin, this is the perfect platform to practice in your own time, at your own pace! The full cost was last listed at $399 but check their site to get the most up to date course cost.
Loka Yoga's Online Yin Yoga Teacher Training is perfect for all yoga teachers who want to learn how to teach Yin Yoga or for those wanting to learn the fundamentals and healing qualities of this style of yoga to benefit themselves and others. This training shares the knowledge and key secrets that set you up for success as a Yin Yoga teacher!
Here are several benefits of choosing Loka Yoga:
Internationally certified with

Yoga

Alliance
Self-paced
Comprehensive 50 hour training
Expert teachers
Video lectures and presentations
Full length Yin

Yoga

classes
Manual of 64 Yin poses
Class sequences prepared for YOU to teach
Teaching toolkit
Downloadable workbook
Fun quiz assessments and activities
Yin

Yoga

support group & community
BE READY TO DISCOVER THE YOGI WITH YIN!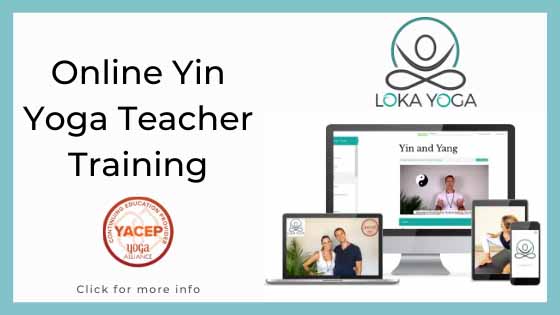 4. My Vinyasa Practice: Online Yin Yoga Certification
The 20-hour,  Yin yoga teacher training through My Vinyasa Practice will teach aspiring Yin yoga teachers the relationship between yin and yang. And, the course can fulfill continuing education credits with Yoga Alliance. Although students can finish the self-paced online course in four weeks, My Vinyasa Practice believes that if students take their time, they will be able to increase their understanding of Yin yoga and improve their practice. 
Students new to Yin and those who are old hats at Yin will improve their Yin practice and will understand precautions, props and sequencing. They will also learn how yin and yang philosophy is connected to a body's tissues. 
Yin teacher training students receive:
Pre-recorded lectures and written content
Written scripts and recorded practices
Instructions and practice
Application and reflection
20 non-contact continuing education credit hours with Yoga Alliance
Access to the My Vinyasa Practice Community
Yin Yoga practices with Michelle Young, owner of My Vinyasa Practice
Access to the online course for life
The curriculum includes:
History, philosophy, and purpose of Yin Yoga.
How to write and theme Yin Yoga sequences to promote health and well-being.
The relationship between Yin Yoga and the meridians.
Application and reflection.
How to leverage Yin Yoga practices in trauma-informed settings.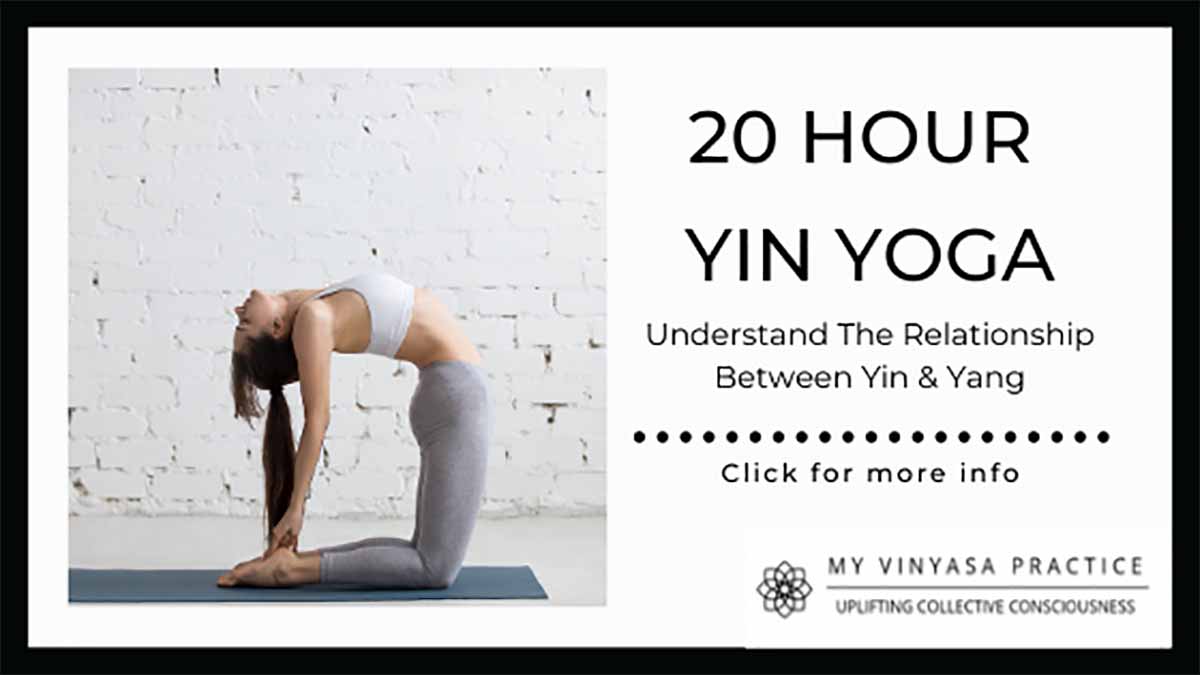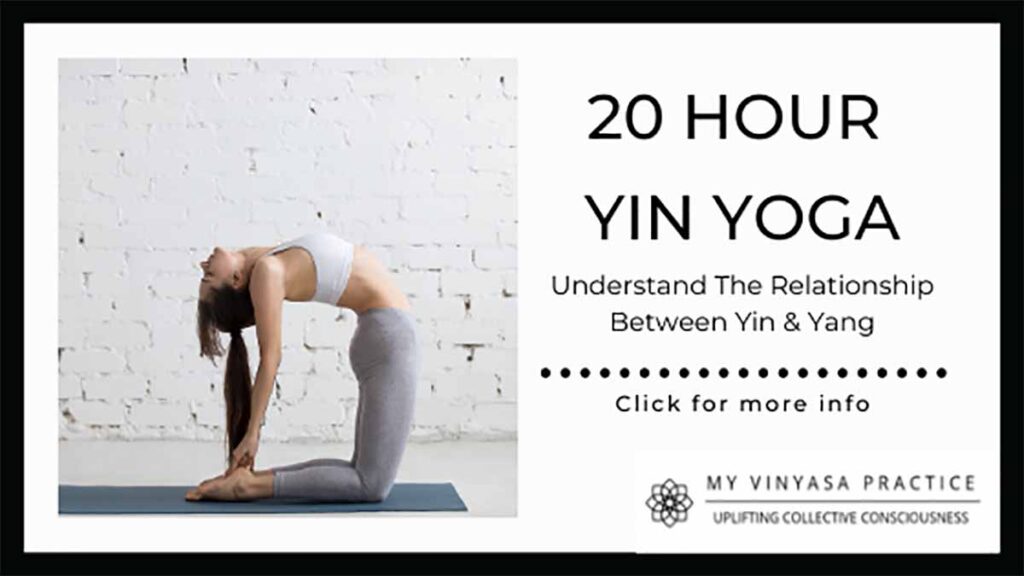 5. Santosha Yoga Institute: 50 Hour Online Yin Yoga Teacher Training
Santosha Yoga Institute's immersive 50 Hour Online Yin Yoga Course is an inspiring program enabling you to teach and share the healing practice of Yin Yoga online. In this course, you will discover the deep healing power of Yin Yoga. Most importantly, you can qualify to teach Yin Yoga in gyms, studios and online, since this is a Certified Yoga Alliance YACEP course. You can work at your own pace from home and have the same high level of teaching, support and expertise students have come to expect from Santosha.
Expect to slow down and tune in with Yin Yoga by exploring experientially how Yin Yoga works on deep levels to still the mind and balance the emotional body. Gain a solid foundation for teaching Yin Yoga and gain the skills to teach comprehensive Yin Yoga classes. Also, safely teach Yin Yoga with modifications, adjustments and sequencing and find your Yin Yoga teaching voice all in this training! Get ready to 'STILL THE MIND AND BALANCE THE EMOTIONAL BODY WITH YIN YOGA'!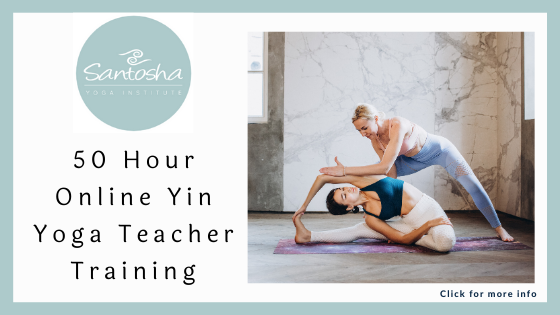 6. The Whole Health Project: Trauma Aware Yin Yoga Teacher Training
The Whole Health Project's 60-Hour Trauma Aware Yin Yoga Teacher Training is an immersive and comprehensive experience designed to empower you with the skills to embody and confidently teach Yin Yoga. This Yoga Alliance (YACEP) certified course dives deep into the 5 Element Theory from traditional Chinese Medicine, fusing together ancient wisdom with modern science along with the free addition of their 10-hour Trauma Aware Facilitation Training, so you can safely and competently support a wide range of students of different ages, body types and abilities.
This self paced, fully online training is for you if:
You want to immerse yourself in the practice and qualities of Yin Yoga and to truly integrate them into your day to day life

You are looking for a trauma aware training so you can share from a space of greater compassion, safety, integrity and inclusivity

You have a desire to teach Yin Yoga from your authentic, direct experience coupled with the wisdom and insight you'll get from the training

You want to develop your reflective, communication and teaching skills, to support not only your teaching tool kits but also for your relationships with yourself, your family and friends
Even though this is a self paced course, every question you have gets answered through their monthly live Q&A calls and the students online forum. Sign up today for as little as $101 USD/month. And if you are desiring to add Breath Coaching or Meditation teaching to your repertoire they also offer practitioner bundles. 
Sign up for their Trauma Aware Yin Yoga Teacher Training along with their Meditation Teacher Training and/or Breath Coach Training to receive an even bigger discount on all three trainings.
Practitioner Bundles: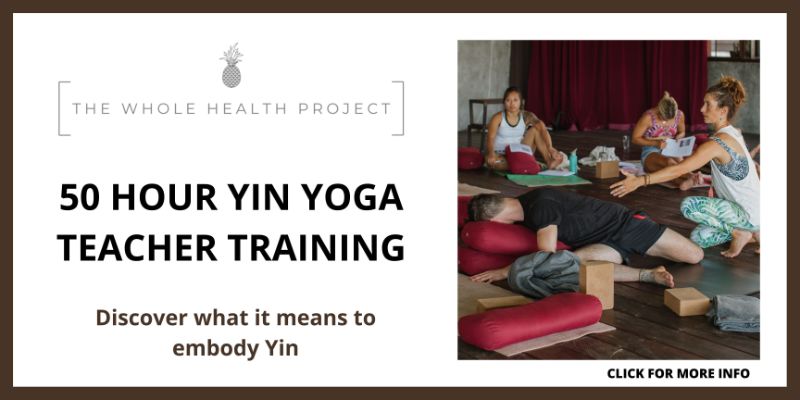 7. Yoga Bliss: Yin Yoga Teacher Training
Emerge in the Yoga Bliss 30-Hour Yin Yoga Teacher Training, accredited by Yoga Alliance and led by Lisa Nelson (E-RYT 500 & YACEP). This course, 100 % online and self-paced, properly trains students to become strong, confident, and knowledgeable teachers, and designed to provide information and training that exceeds all standards set by any "alliance".
By completing this course, you'll be able to guide students through a full Yin Yoga Class, you'll be able to sequence classes based on ancient theories embedded in Traditional Chinese Medicine, and will gain extensive knowledge of  Yin Yoga and More! 
This Online Yin Yoga Teacher Training Course will support you in finding the balance between Yin and Yang Both on and off the mat. Offering all the benefits of online instruction: convenience, flexibility, and cost efficiency. Focused on meeting students where they are at and providing all of the tools necessary to offer the same in your teaching.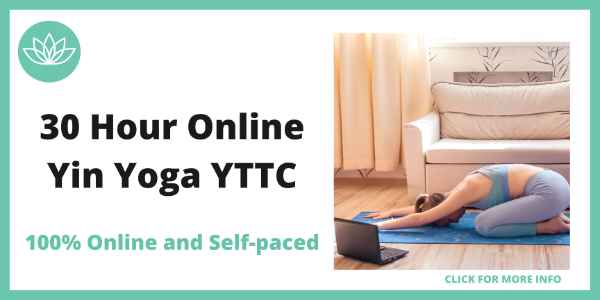 8. Siddhi Yoga: Online Yin Yoga Teacher Training Certification
Are you passionate about yin yoga and looking to deepen your practice or share your knowledge with others? Consider embarking on an enriching journey with Siddhi Yoga. Their Online Yin Yoga Teacher Training Certification is a comprehensive, Yoga Alliance Accredited, course that will equip you with the necessary skills and knowledge to become a certified Yin Yoga instructor.
What's Included in the Course?
50 hours of self-Paced training.

We understand that everyone's schedule is unique, which is why this course is designed for self-paced learning. You'll have the flexibility to complete the training at your own convenience, allowing you to strike a balance between your personal commitments and your passion for yoga.

Yin yoga manual. As a reference guide throughout the course and beyond, you'll receive a comprehensive Yin Yoga manual, detailing the principles, practices, and philosophy of Yin Yoga.
Over 70 video lessons.

Learn from experienced and skilled instructors through more than 70 high-quality video lessons. These videos will provide step-by-step guidance on the various aspects of Yin Yoga, ensuring you grasp the concepts effectively.

Lifetime access.

Once enrolled, you'll enjoy lifetime access to all course materials, including updates and additions. This way, you can revisit the content as many times as you like, even after you've completed the course.

Siddhi yoga online community.

Join a supportive online community of like-minded individuals and instructors, where you can engage in discussions, share experiences, and seek guidance on your journey as a Yin Yoga teacher.

50 hours of Yoga Alliance continuing education.

Upon successful completion of the course, you'll be eligible for 50 hours of Yoga Alliance Continuing Education credits, enhancing your credentials as a certified yoga instructor.
You will lean
Concepts of yin yoga yin and yang tissues

Yin yoga vs. restorative yoga

How to practice yin yoga and principles

Pranayama

Five elements and mudras

Yin yoga and meridians

Yin yoga sequences
Siddhi's Online Yin Yoga Teacher Training will unlock the profound benefits of Yin Yoga for yourself and your future students. Whether you aspire to become a certified instructor or deepen your practice, this course will be a life-changing experience. Embrace the healing powers of Yin Yoga and enroll now!
9. Akasha Yoga Academy: 80-Hour Online Yin Yoga Teacher Training
Discover the transformative power of yoga with the Akasha Yoga Academy's 80-Hour Online Yin Yoga Teacher Training, a self-inquiry-based program that embraces a holistic approach to yoga education. This comprehensive training goes beyond the physical practice, delving into the depths of Yin Yoga philosophy, mindfulness, and self-awareness. As a Yoga Alliance certified training, graduates receive recognition and credibility within the yoga community, empowering them to lead impactful and life-changing yoga sessions.
Key features
Self-inquiry based learning.

Explore your inner world and cultivate a deeper understanding of yourself through self-inquiry-based practices integrated into the training.

Holistic curriculum.

Immerse yourself in a comprehensive curriculum that encompasses not only the physical aspects of Yin Yoga but also its emotional, mental, and spiritual dimensions.

Flexible online format.

Enjoy the convenience of online learning, enabling you to study at your own pace and from any location with an internet connection.

Experienced instructors.

Learn from dedicated and experienced Yin Yoga teachers who provide personalized guidance and mentorship throughout the training.

Yoga Alliance accredited. The training is certified by Yoga Alliance, ensuring the highest standards of yoga education and recognition in the global yoga community.
Registered Yoga Teacher (RYT). Graduates are eligible to register with Yoga Alliance as a Registered Yoga Teacher, opening doors to teaching opportunities worldwide.
Enroll in the Akasha Yoga Academy's 80-Hour Online Yin Yoga Teacher Training and experience a life-changing journey that transcends the physical aspects of yoga. Embrace a holistic approach to yoga education that nurtures personal growth and self-awareness, empowering you to become an impactful and inspiring Yin Yoga teacher.

As a Yoga Alliance certified program, this training not only provides a comprehensive curriculum but also elevates your teaching credentials, ensuring recognition and credibility within the yoga community. Prepare to embark on a transformative adventure that will deepen your practice and guide you towards becoming a confident and compassionate yoga instructor.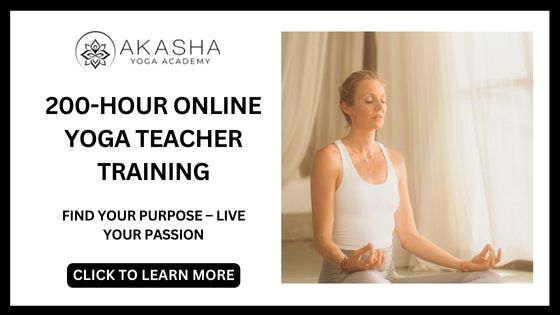 How do I become a Yin yoga teacher?
First of all, you are not required to have a certification and Yoga Alliance Continuing Education credit hours to become a Yin Yoga teacher. But, if you want to be a successful and highly qualified Yin Yoga teacher, drive more students to your studio and keep your students safe and healthy, then it's imperative that you formally study to be a Yin Yoga teacher. 
The first step to becoming a Yin Yoga teacher is to study for your 200-hour yoga teacher training certification. It may also be useful if you get your feet wet and teach yoga for a while, perhaps even for one year or more. 

Also, it's a good idea to familiarize yourself with Yin Yoga through your own personal Yin Yoga practice. Become comfortable transitioning through the various Yin Yoga poses and start learning the names of each pose.

It's useful to brush up on the anatomy that you studied during your 200-hour yoga teacher training. As a Yin Yoga teacher, you'll be suggesting adjustments and alternate poses to your students so it's necessary that you are well-versed in human anatomy, especially the muscular structure.

Then, you'll need to find the right for training. There are so many out there, including the ones we talked about above, that we're confident you'll be able to find the right Yin yoga teacher training class for your schedule and lifestyle. 

After you finish the class, make sure you update your professional information to include that you are certified and that the hours you spend in Yin Yoga teacher training will count with the Yoga Alliance. That information will show your commitment to the practice and will give confidence to your students that you are an expert at teaching Yin.
How do I get certified in Yin yoga?
Yin yoga certification is awarded through individual yoga teacher training locations.  In many cases now you'll even be able to get your yoga certification online and then can supplement with additional certifications or continuing education modules like Yin Yoga.  The main yoga certification entity, Yoga Alliance doesn't offer a Yin yoga teacher training certification. But, once you finish a Yin yoga teacher training course, you can register those hours spend in class as continuing education credit hours with the Yoga Alliance.  
Also, the actual certificate that you earn from Yin yoga teacher training will be valuable as it will show current and potential students that you are an expert at teaching Yin yoga. They will trust that you will keep them safe, and you may even see an uptick in word-of-mouth business when potential students learn that you have a Yin Yoga teacher training certificate. 
Personally, I would rather choose a teacher with a Yin Yoga teacher training certificate than one without. As a yoga teacher myself, I know how important it is to keep our students safe. And one way to keep a yoga student safe is to have a good understanding of the human body and how to offer adjustments and modifications if a pose is too difficult or causing the practitioner pain or discomfort. And, if a yoga teacher doesn't have a good understanding of Yin yoga and its intense yet slow poses, then they may not be able to adequately and safely guide their students. 
Yin Yoga is different from faster yoga. It's pretty intense as you're holding a pose for minutes at a time. We don't want our students sitting in pain. Yin Yoga certification will ensure that a yoga teacher will be able to recognize issues with a pose and guide the student through modifications.
Become certified in Yin yoga is quite straightforward as we've discussed above. Once you choose and successfully complete your Yin yoga teacher training, the location where you took your course will award you a certification. That certification will be recognized worldwide. And it will be a powerful tool at growing your Yin yoga teaching business and will help you achieve success, whether you are teaching group classes or working with private clients.
Final Thoughts on Yin Yoga Teacher Training
Taking a Yin yoga teacher training course has never been easier. All of the courses we talked about above are held entirely online and use a variety of different media options, such as live discussions, video, Facebook groups, and more. 
Yin yoga can be an important part of a person's yoga or health routine. Not only will Yin yoga help a person if they have chronic pain or are recovering from an injury; it will also allow practitioners to achieve piece of mind and gain a calmer outlook on life. As we mentioned above, the slowness of Yin allows you to check in with your muscles. You will find you are better able to push yourself right up to the line between comfort and strain. And you will learn how not to go past that line. But, you won't just work on your body in a Yin yoga class; you'll practice meditation and mindfulness as well. You'll calm your entire being and will learn how to bring that stillness into your daily life so that you can decrease stress and anxiety.
And, as a Yin yoga teacher, you'll feel comfortable guiding students through their practice. You will learn how to recognize when a student should back off and refrain from pushing themselves, or when a student isn't pushing themselves hard enough and can strive for more. You'll also learn how to express to your students how they can modify their poses for extra comfort. You'll teach them that every body is different and they may not be able to achieve the bends that other students may easily perform. You'll have a better understanding of Eastern beliefs. And, you'll learn how to teach class with props such as blocks and pillows. It will be a lot to learn, but if you are passionate about Yin yoga, it will be worth it.
So, we hope you had a chance to look at the overviews of the best online Yin yoga teacher training courses to find the best one for you. It's an important addition to your resume and could drive customers to your yoga studio. Lastly, we hope you looked at the steps you will need to take to achieve your goal of becoming a Yin yoga teacher. But don't think that this is where your yoga education ends. Keep studying and learning new aspects of yoga to increase your knowledge, help your students and grow your business.