Last updated on November 15th, 2023.
There are many ways you can make a difference in today's world filled with so much sadness and agony. One of these ways is by being a music therapist. Music therapy will help you overcome your mental health struggles, but you'll also find a healthy way to cope while helping others.
The 5 Best Music Therapy Certifications Online are from:
If you want to learn how to perform music therapy, there are many therapy courses that you can pursue online and get a Music Therapy Certification. To help heal others through music, you'll need to learn more about music and its effects on the body and promptly create music to match a mood. All these courses mentioned can be pursued at your own pace online.
How does Music Therapy work?
Music Therapy is a great tool that works magic in the brain. When we listen to music we enjoy, the body releases "happy hormones," which in turn help change our mood. Music can also alter your mood, which helps change one's behavior. If one is feeling grumpy and annoyed, they become less of that and more patient with others. Music therapy works in three ways, which include:
Modulation of attention. Music distracts you from negative stimuli (like anger, worry, hate, pain). These negative stimuli often lead to negative experiences. Music reduces pain in patients because they don't concentrate on the pain in their body but rather focus on the lovely music they hear.
Modulation of emotion. Listening to music brings up certain types of emotions. For example, when you listen to Billie Eilish's Happier Than Ever after a breakup, you'll most likely be bawling your eyes out or screaming in frustration at the top of your voice. But you may get renewed hope when you listen to Bob Marley's Three Little Birds after a hard couple of days. According to a study, music can regulate areas in the brain involved in generating, maintaining, terminating, and modulating emotions.
Modulation of cognition. Music is an excellent modulator of cognition. It can help store memory and decode musical information. For example, have you ever listened to a type of music and specific memories came up? That's how it sometimes helps you retain clear memories using a particular song (or songs). When we listen to music, we also try to understand its meaning by breaking down every sentence and word.
Modulation of behavior. Music can evoke specific movement patterns, like walking, talking, and speaking.
Modulation of communication. One can use music as a form of communication. Some people find it difficult to use words, and music is a preferred communication method. It is a more emotional method of communication and can help build relationships.
Can Music Therapy be done online?
There is a room in Virtual Music Therapy. Making Music Therapy virtual helps this therapy reach more people wherever they are. Some people can't visit a therapist's office, and a therapist can't come to them because of the distance, but it is possible to ensure everyone enjoys this form of therapy through the internet. So, if by pursuing a Music Therapy Certification, you're afraid of what that means for your practice, don't worry. You can decide whether to do it online or in person. But you can also choose to do both, such that clients that can come to you come and those at a further geographical distance can still take up sessions with you without worry.
The therapist's relationship with the client matters the most with Music Therapy. That's what determines a lot. Distance doesn't, as long as both are contented with each other and the client is comfortable with the arrangement. You can always make a difference in someone's life, regardless of distance and means. So, yes, Music Therapy can be done online.
Can you do Music Therapy at home?
Even though you can conduct your music therapy at home, nothing equates to the help you can get from a certified Music Therapist. You can always write, sing, or listen to a song at home. But when it comes to music therapy, it requires a particular form of communication that you most likely won't be able to do alone.
But when you're under a therapist, they will use specialized tools and mechanisms to implement the program successfully. Most therapists use piano and guitar instruments with their patients. But even with these, you won't be able to activate some forms of music therapy like imagery. During an imagery session, the therapist guides the client to imagine themselves in situations that make them happy. The client is then asked to play the music that matches their feelings in their imaginary happy place.
What qualifications do I need to be a music therapist?
Most institutions require you to have a degree in music. If you don't have a music degree, you'll need an undergraduate degree in related fields like social work, behavioral sciences, psychology, or other similar areas. You'll need a practical application of music therapy to get into the entry-level study. That means you'll need to practice helping disabled individuals in the community of campus clinics.
So, if you have other non-music-related degrees, you must pursue a music therapy course. You can complete such a course without necessarily earning a second bachelorette degree because most AMTA-approved schools don't offer the same depth you'll get when you pursue a music degree.
But let's say you have a master's degree in music therapy. Then, you'll need to register with the Health and Care Professions Council.
The 5 Best Music Therapy Certifications Online
It can be complicated to find Music Therapy Certifications online. But we've put together these few for you to go through. If you have been considering pursuing a career in Music Therapy, these courses will help you see what you're signing up for before you go studying for years to find that you don't like it. Above, you'll see the requirements to be a Music Therapist. These courses can be used as continuing education or testing the waters of a career as a Music Therapist.
1. My Vinyasa Practice: Sound Healing Certification
Join My Vinyasa Practice in a captivating exploration of sound and harnesses the potent energy of tribal vibrations. Throughout this Sound Healing program, you'll gain a profound understanding of the science behind sound healing and learn practical techniques to integrate it into therapeutic sessions and group offerings. 
This course is perfect for those seeking to deepen their knowledge of sound's therapeutic potential and its role in healing and well-being. With a focus on the art of facilitating group sound healing experiences, you'll learn various modalities, including:
vocal toning
mantra chanting
the enchanting sounds of singing bowls
Led by two experienced and certified instructors, Eva Hawker and Jenny O, this hybrid sound healing certification offers unparalleled expertise. Eva, a classically trained vocalist, music teacher, and vocal coach, brings her wealth of experience in sound and music. Jenny O, a C-IAYT and E-RYT 500, complements the course with her expertise in vibrational healing, Ayurveda, and mentoring. Together, they create a dynamic learning environment that empowers students to explore the profound effects of sound on the mind, body, and spirit.
Other benefits of this course
Earn 60 Continuing Education Units (CEUs) recognized by Yoga Alliance

Hybrid offering provides the flexibility to participate in training either online or in person at their South Congress studio

Online participants benefit from lifetime access to course content
The certification journey involves attending each session, completing a short assessment, planning and facilitating a sound healing event or one-on-one session, and reflecting on the experience in a written assignment. This hands-on approach from My Vinyasa Practice allows students to apply their knowledge practically and gain valuable experience in sound healing facilitation. Moreover, students already enrolled in the yoga therapy certification course are automatically registered for this sound healing certification, making it a seamless addition to their comprehensive training.
Whether you are a yoga teacher, therapist, or wellness enthusiast, this course will empower you to harness the transformative potential of sound and integrate it into your offerings, fostering holistic healing and well-being.
2. Breathworks Miracles: Sound Healer Certification
Begin your Sound Healer Certification journey with the guidance of Julie King, a world-renowned musician with classical training and a member of the Grammy Recording Academy. Julie's commitment to sharing her musical expertise with aspiring sound healers provides a unique opportunity for you to benefit from her knowledge.
This Breathworks Miracles online music therapy certification program caters to individuals just starting their exploration of sound healing. It offers a comprehensive curriculum in sound therapy, focusing on your growth as a proficient sound healing facilitator. Throughout the course, you'll learn the art of chanting, master the intricacies of trans-lopping, and achieve proficiency in using Tibetan sound bowls.
You will gain deep knowledge of:
Therapeutic sound applications
Creating harmonious and sacred ceremonial spaces
Using your voice, hands, shakers, and drums
The program also explores Chakra healing sounds rooted in Shinto Shamanism and yoga, leveraging a holistic approach to sound therapy. Julie King's international acclaim and dedication to nurturing talent will ensure you are well-prepared to become a proficient sound healing facilitator.
2. Udemy: Sound Therapy & Sound Healing Accredited Practitioner Course
Enter sound therapy, a profound and ancient practice that has resurfaced in recent years as an effective method for restoring equilibrium to our lives. If you're intrigued by the idea of using sound to heal and balance, this course from Udemy is your gateway to understanding and harnessing the power of sound for holistic well-being.
Learn how sound can balance & heal:
At the heart of the Sound Therapy & Sound Healing accredited course lies the fundamental principle that sound has the potential to balance and heal our physical, mental, and spiritual selves. Guided by a team of experts, including a spiritual facilitator and author, a seasoned teacher & sound therapist, and a skilled Musician and Educator, this course blends wisdom, experience, and practical knowledge to bring you a robust learning experience.
With various tools and techniques, you can craft soundscapes that soothe, rejuvenate, and align. From the resonant vibrations of the Gong to the ethereal tones of the Native American Style Flute, Crystal Bowl, Tibetan Bowl, Sansula, Tongue Drum, and HandPan, you'll explore a variety of instruments that each contribute to the symphony of healing.
Course highlights
Comprehensive curriculum.

With 24 sections and 51 lectures, the course covers many topics, ensuring a deep and holistic understanding of sound therapy.

Guided meditation.

A simple meditation practice will help you develop a heightened sensitivity to the subtleties of sound and energy.

Sound bath templates.

Unlock the secrets of crafting transformative sound baths with ready-to-use templates, including Chakra Crystal Bowl and Elemental Sound Bath options.

Self-healing techniques.

Discover how sound therapy can be a deeply personal practice for your well-being.

Online sound baths.

Learn the ropes of hosting online sound baths, tapping into the digital realm to spread healing vibrations globally.

8 hours of on-demand video.

Assignments to deepen your understanding, downloadable resources, and the flexibility to access content on mobile and TV platforms
This sound therapy course, guided by a team of seasoned experts, offers an excellent opportunity to dive deep. Upon completing the course, participants will receive an official accreditation certificate, recognizing their commitment to mastering the art of sound therapy.
3. Udemy: Soundwave Healing Therapy Certificate Course
Have you ever been intrigued by using sound to enhance your well-being? 
This course from Udemy on soundwave therapy and sound healing will equip you with the skills to become an accredited soundwave healing facilitator. This immersive program will give you hands-on insights into conducting individual and group sound healing sessions. The course illuminates the art of crafting a secure and nurturing environment that fosters profound relaxation and holistic healing.
The curriculum demonstrates how soundwave therapy can harmonize and recalibrate our vital energy centers, particularly the intricate chakra network. The course amplifies the significance of nurturing intuitive listening abilities, and by integrating all ten healing frequencies into your sound therapy repertoire, you'll be primed to enhance any healing modality with an array of tools to promote well-being.
With this course, you will
Receive a brief history of soundwave healing therapy

Use healing frequencies to activate higher levels of creativity

Leverage soundwave healing to cure physical ailments (back pain, migraines, etc)

Properly use binaural beats [alpha, beta, theta, delta]

Understand solfeggio frequencies

Use sound to heal the mind, body, and spirit

Learn the knowledge required to become a Soundwave Healing Therapy facilitator
Only requirements

Headphones

An open mind

A quiet space
From alleviating physical discomfort to unleashing creative energies and spiritual healing, this course serves as a conduit for comprehensive healing. Through the intricate blend of sound, intention, and attuned listening, you'll acquire the ability to unlock dormant potentials within yourself and those you assist.
4. Centre of Excellence: Music Therapy Course
When starting the course by Centre of Excellence, you will experience how clients feel when they are treated using Music Therapy. Afterward, you will get guidance on different approaches to treat your client. You will learn different models which will equip you with tools to help others. You will also understand the history of music and the different types of music you can use for various situations. Since Music Therapy isn't as intense as other forms of therapy, you'll learn the flexibility to adapt and improvise Music Therapy to serve your client. To practice after this course, you must have a background in music. It is also a perfect course for someone considering seeing a Music Therapist who wants to understand what to expect.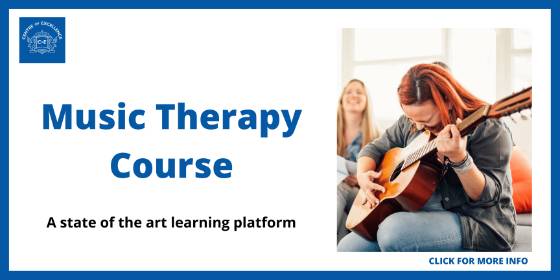 5. Courses for Success: Music Therapy Certification Online
With Courses for Success, you will learn about the health advantages of Music Therapy and how it can help those suffering from physical and mental conditions. This certification is perfect for anyone interested in becoming a Music Therapist. The course will start by giving you an experience of how your client will feel during a therapy session with a Music Therapist. Students will learn various techniques to explore Music Therapy with their clients. Music Therapy will also go in-depth into what Music Therapy can treat to know the needs of multiple clients you'll have in the future.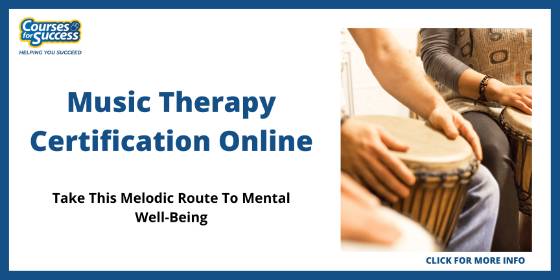 Music Therapy is a fantastic career if you love music and helping people. Besides all the education you need to possess to practice it, you'll also need to genuinely like people and be a people person because this career is more involved in human connection since that's what clients care about. The above courses will help paint a clear picture of what you will do, the benefits of Music Therapy, and how it works to improve everyone's life.