Last updated on September 26th, 2023.
Tony Robbins is undeniably one of the most influential life strategists of this century. Since starting his coaching career in his early 20s, he has amassed much wisdom working with the most brilliant minds the world has ever seen — beginning with his mentor Jim Rohn.
The 7 best Tony Robbins books are:
If you wish to improve your life through the lessons Robbins imparts, you don't have to attend one of Tony Robbins premium seminars. You can benefit from his insight by reading his books and applying his established advice in your life.
This article provides you with details about what you'll find in the seven best books ever written by him. Tony is a motivational entrepreneur not only known for writing inspirational books but also for offering seminars and speaking, like his Tony Robbins results coaching, around the world. (Find more information on that seminar here)
He's been extremely impactful and thousands of people have found his advice very beneficial and the following books have influenced many people's lives. You might be the next one they help!
1. Awaken the Giant Within
Awaken the Giant Within: How to Take Immediate Control of Your Mental, Emotional, Physical & Financial Destiny is the book to start with if you want to explore Tony Robbins's books.
In this book, Robbins explains how many people go with the flow of life without shaping their destiny. Their lives are constantly dependent on their environment to achieve happiness, finances, and other life goals. The problem is, when the external factors become harsh, they experience a major fall and realize they haven't been in control when it's too late.
Therefore, the purpose of this book is to help you shape your life by taking you through a roadmap of self-mastery so that you can create a future you want and can handle no matter what. Awaken the Giant Within will help you wake up your giant within that sees no limits and tackles fears and self-limiting beliefs to live the life you value every step of the way.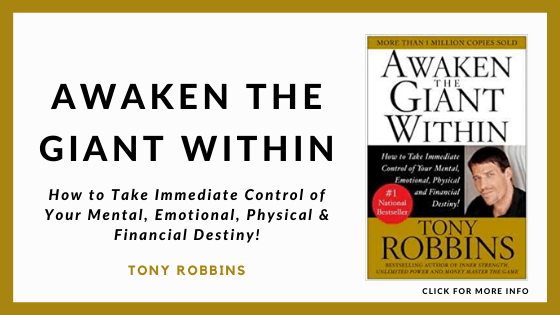 2. Unshakeable: Your Financial Freedom Playbook
Unshakeable: Your Financial Freedom Playbook is a book that'll teach you the rules of accumulating wealth. It's beneficial to anyone inexperienced in the diversified tactics of achieving financial freedom. While Awaken the Giant Within is for self-mastery in your overall life, this book is for mastering your finances.
This book debunks one of the major myths many grow up believing — that you can earn your way to wealth. Robbins explains that many people can make money, but they can lose that money as fast as they made it, no matter how much it is. People like Michael Jackson earned a ton of money but ended up losing most of it.
Therefore, Unshakeable teaches you the rules of investing and creating financial freedom to end up with unshakeable wealth. It mentions tips on long term investments, minimizing taxes plus other fees, and smart asset diversification. It also reminds you to keep doing what you value for fulfillment because it's part of true wealth.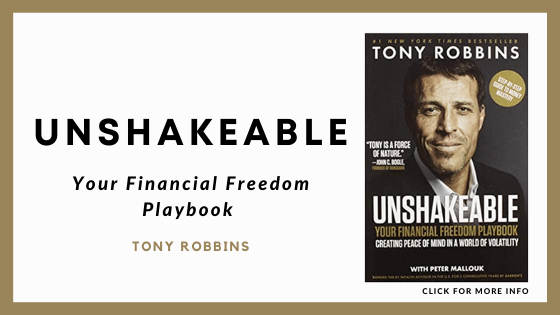 3. Unlimited Power: The New Science of Personal Achievement
Unlimited Power: The New Science of Personal Achievement is a great book you might need at any stage of your personal development journey. If you wish to improve any aspect of your life, you might want to read this book alone or after exploring Awaken the Giant Within.
Unlimited Power is all about modeling your life's path to achieve a particular personal goal. And it all begins with the ability to communicate what you want in your life. This way, you can take the right direction to reach your dreams.
After determining your ideal future, Robbins teaches you about the lies you might be telling yourself about success and how you can reset your mind to eliminate self-limiting beliefs. After that, you can learn how to effectively communicate with others and create success using proven tactics of people who've already reached where you want to be.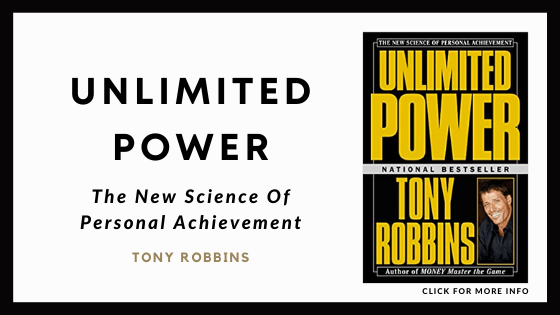 4. Money, Master the Game: 7 Simple Steps to Financial Freedom
Money, Master the Game: 7 Simple Steps to Financial Freedom is a product of Robbins's thorough research and interviews with global financial icons like Warren Buffet, Ray Dalio, and Carl Icahn, among others. It shows the critical steps to building wealth and how those who are already wealthy have handled various challenges in their journeys.
Like in Unshakeable, the number one thing Robbins advises the reader in Money, Master the Game is to get started in the investing world instead of spending your money consuming. Further, he also teaches about the confusion you should be prepared to encounter when you begin investing and emphasizes doing extensive research instead of following investing myths. This is covered in the book's first step: "The Jungle."
After navigating the jungle, Robbins tells you how to become an insider and learn the rules of the game, the price to pay for your dreams, crucial investing decisions you will make, the risks involved with investing, and more.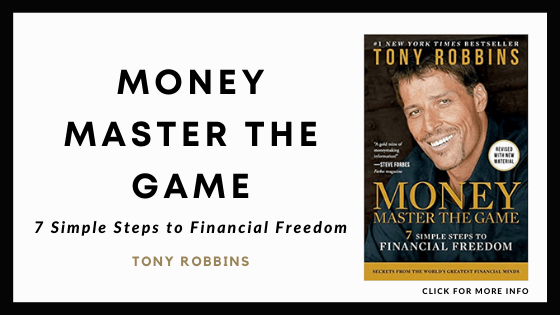 Giant Steps is the book you can use to remind you of the tools and strategies you need to develop any aspect of your life. Personal transformation is achieved by revisiting some vital lessons to get you going. And Giant Steps is a companion book you can use no matter where you are in life.
From exploring the things preventing you from taking action to participating in challenges outlined in the book, you can use Giant Steps to carry out a particular project until you achieve results.
You'll get a clear roadmap that's applicable across many industries and various life aspects. It'll enable you to work on your goals systematically and for a short time to achieve the outcomes of your full potential. You'll achieve giant steps from these small changes.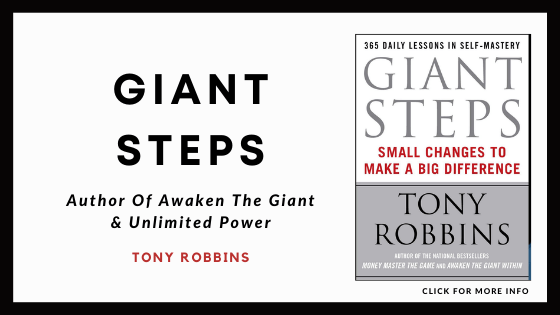 6. Notes from A Friend: A Quick and Simple Guide to Taking Charge of Your Life
Notes from a Friend: A Quick and Simple Guide to Taking Charge of Your Life was self-published by Tony Robbins in 1991. Many people bought it, so Robbins updated it with even more timeless advice and content, and it now exists as a renewed paperback you can purchase from Amazon and other stores.
This book resembles a mirror of your life, with a friend giving you advice, explaining life struggles in detail while providing you with strategies to maneuver and overcome them. With anecdotes and fictional scenarios to bring points home, you will feel like you're talking to a friend over a drink, and they truly understand what you're going through in life.
Although it explains the realities of life, you'll be influenced to take action through the positive nudges you get from Notes from A Friend. This is a book you can buy for yourself or as a gift for any loved one.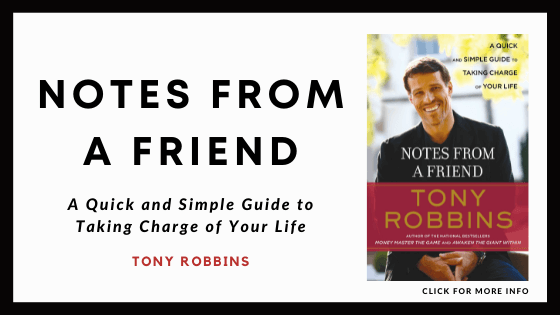 7. Unleash the Power Within: Personal Coaching to Transform Your Life!
Unleash the Power Within: Personal Coaching to Transform Your Life is an audiobook that Robbins has created with teachings from his Unleash the Power Within seminars. It's a definitive guide to anyone who feels stuck at any point in their life.
In this audiobook, Robbins takes you through a personal transformation process that starts with breaking down how you want to live your life. After this first step, you can learn how you can make that future happen, not by hoping but by systematically designing it.
You should get this audiobook specifically if you digest information better through audio. This way, you can hear and understand Robbins's decade-proven success strategies and use them to jumpstart your own success.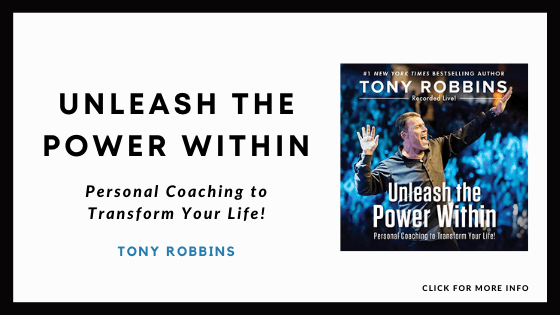 Tony Robbins's books have changed the lives of many people for the better. That's why many industry leaders like Oprah Winfrey recommend him as a catalyst for change. If you purchase some of his most influential books above that match your needs and preferences, you can achieve tremendous success if you apply them to your life.
(If you enjoyed the books, maybe you want to go to one of Tony Robbins' events, or you want shorter material, check out Tony Robbins' quotes!)