Last updated on September 21st, 2023.
Tony Robbins is a motivational speaker who puts on numerous seminars annually. Through his seminars, Robbins helps audience members with everything from their business endeavors to various areas of their personal lives. However, with so many Tony Robbins events to choose from, which are an absolute must?
Overall, the best picks seem to be:
The one that is right for you depends on what you are looking for out of a Tony Robbins event. If personal development is important to you, Unleash the Power Within might be a great starting point. Meanwhile, Leadership Academy can be great for those seeking professional development. If you are not sure, read on to learn more.
What Can I Expect at a Tony Robbins Event?
"Create Your Own Success Story" – that is the Tony Robbins philosophy and one of the main reasons people continue to head to his events to hear him speak year after year. Well, not the only reason.
Tony Robbins seminars are fun-filled and action-packed events. Different events will typically focus on different subjects. However, they all place emphasis on personal growth and ways to become stronger.
Many Tony Robbins events give you opportunities to learn new tools you can apply in your daily life. Not only that, events offer the chance to engage in thrilling activities and discover the healing power of nutrient-rich foods. This way, you can also begin to restore your body while you restore your mind.
(Check out Tony Robbins results coaching here!)
When you head to an event, expect to engage in many different activities. You will dance, you will meet new people, and you will have an adventure of a lifetime. Most importantly, you will learn numerous new lessons you can apply to your life to help you grow.
How Long Are Tony Robbins Events?
Tony Robbins events are held across multiple days, though occasionally single-day events are held. Additionally, each day in a Tony Robbins event is typically many hours long, often spanning most of the day. Therefore, if you plan to head to one, you will need to be prepared.
It is usually a good idea to bring along a water bottle. There will be places to refill so you can stay hydrated, but you want to be sure you can stay refreshed. It is also a good idea to bring along some healthy snacks such as:
Rice cakes
Ginger chews
Dried fruit
Nuts
Protein balls
It is also important to note events can be upwards of six days long, sometimes even more. Usually, these longer events are intended for diehard Tony Robbins fans. If you are new to Tony Robbins, you may want to plan on attending a shorter event. You may even think about trying one of the speaker's newer virtual events.
The Three Best Tony Robbins Events You Gotta Do! (Including Online)
Over the years, Tony Robbins has come up with many different events to help his fans with many different areas of their lives. Whether you need guidance in the world of business, you want to build a better relationship with your partner, or you want to begin building a plan for financial freedom, Tony Robbins has an event to offer counsel.
On top of all that, technological advancements have led many Tony Robbins events to be held online in addition to in-person. This means even those who are not able or not ready to attend Tony Robbins' large seminars can still try one and see how it may help them.
With all that being said, these three events can be considered standouts among the many different seminars offered by the motivational speaking tycoon. In particular, these three are appealing for the way they speak to their audience and the messages they deliver.
The most popular event is Unleash the Power Within. The seminar is named after the book of the same title, written in 2012, and teaches attendees how to tap into the power given to them at birth. This power allows them to break through any barriers to create a more confident and passion-filled life.
This event takes place over the course of three-and-a-half days. On these three-and-a-half days, attendees will learn lessons in these categories:
Day One – "Turn Fear Into Power"
Day Two – "Turn Dreams Into Reality"
Day Three – "Break Through to Your New Life"
Day Four – "Health and Vitality"
You may notice how motivational he quotes the goal of each day of the event. To see more of Tony Robbins quotes, check out that article.
Also notable is that during Unleash the Power Within, there are Unleash the Power Within Youth Leadership events. These are held for teens aged 14 through 17 and teach age-appropriate lessons on the same subject matter.
To be accepted into the program, teens must be in good academic standing, have demonstrated leadership skills in the past, and have completed at least 20 hours of community service.
Date With Destiny is one of the most exclusive Tony Robbins events, being held only twice a year. The event takes place in different locations every year and is held over six days. This Tony Robbins event is designed to help individuals learn what motivates them and what gives them passion in life.
Among the most notable features of Date With Destiny is its atmosphere of total immersion. During the event, attendees receive guidance in finding what motivates them, allowing them to design the life of their dreams. Each day features a specific topic, these topics being:
"Preparation Day" – Attendees learn who they are and what they desire from life.
"Evaluation Day" – Attendees learn about their reactions and how their reactions modulate the events in their lives.
"Discovery Day" – Attendees uncover the rules and values that command their lives.
"Relationship Day" – Attendees learn the secrets behind finding, creating, and maintaining the lasting and passionate relationships they deserve.
"Transformation Day" – Attendees set the rules and values by which they will thrive and live lives of enjoyment and pleasure.
"Integration Day" – Attendees learn how to integrate and apply the knowledge learned throughout the seminar in a long-lasting way.
Date With Destiny is notably one of the more intense Tony Robbins seminars. Each day can last upwards of 15 hours in total and can feature vigorous activities. Those interested in attending should be prepared, both physically and mentally.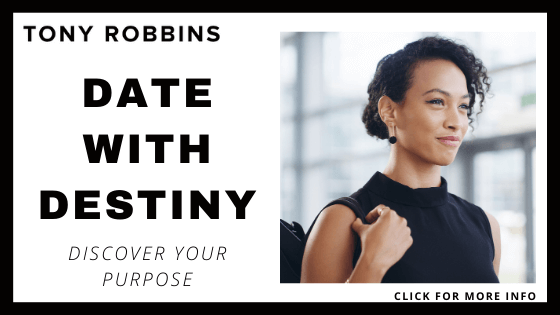 The world needs leaders. That is the philosophy behind Leadership Academy, a four-day seminar that offers attendees the tools and strategies they need to become true masters of influence.
Leadership Academy is based on Tony Robbins' own leadership training system. One of the unique things about this program is it accounts for numerous styles of leadership. It offers a full-immersion experience as well and teaches a variety of skills, including:
Neuro-Associative Conditioning
Neuro-Linguistic Programming
Persuasion
Non-Verbal Communication
Motivational Coaching
Among the many great benefits of Leadership Academy is those who participate will get to practice and receive feedback in real-time as they participate in the program. This makes it a fantastic program for any individual looking to push themselves further and get results in the world of business.
What's Tony Robbins' Most Popular Online Event?
Of course, these days, more and more people are headed online to attend Tony Robbins events. There are plenty of reasons for this. Going online cuts costs tremendously, and many people are physically unable to keep up with the demands of Tony Robbins seminars, which can run up to 15 hours a day!
Tony Robbins seems to be well aware of how many people are interested in attending his seminars in a virtual format. The vast majority of his events are now also available virtually. It is important to note that when attending a virtual event, you will need:
Strong Internet Access
A Webcam
Writing Utensils and Paper
Comfortable Seating
A Quiet Space Free of Distractions
Worksheets For the Seminar, if Applicable
It is also recommended you use good speakers or high-quality headphones to elevate your experience. Note that you can also view the virtual experience on television, which is usually the best choice!
Unleash the Power Within - Virtual
Perhaps his most popular online event is Unleash the Power Within. Just as is the case with the in-person version of this event, Unleash the Power Within – Virtual takes place over four days.
During these four days, attendees get the chance to join in on the activities via Zoom by way of their phone, tablet, laptop screen, or even their television – the recommended choice! A range of immersive activities will be offered to ensure everybody gets to join in, even if they are not at the seminar in person.
Life and Wealth Mastery - Virtual
Life Mastery and Wealth Mastery are also among Tony Robbins' most popular seminars. Those interested in attending now have the opportunity to attend either one of them virtually. Additionally, a package is available offering the two seminars as a pair.
With this package, attendees get the chance to learn how to transform their physical health and finances. Not only that, they get the chance to do it all from their phone, tablet, laptop, desktop, or television screen!
Those who join in receive a wealth of information that will allow them to rejuvenate their bodies, detox, and get the knowledge they need to rejuvenate their finances as well. This is a great package for anybody, whether they are seeking information to restore their health or in need of tools to guide them to financial freedom.
Other Virtual Tony Robbins Events
Of course, the above are not the only events Tony Robbins puts on virtually. In fact, there are numerous other virtual events offered by the motivational speaker. Some of the most notable include:
No matter the event you choose, you can expect to learn just as much if you sign up for a virtual Tony Robbins event as if you were to book an in-person Tony Robbins event.
Tony Robbins is a leader in the world of motivational speaking. With his programs, individuals can get what they need whether they want to attend a seminar in an exotic location or they are looking to join in from the comfort of home. Tony Robbins has over 30 years of experience in motivational speaking that you can begin benefiting from now.
If you want to dive deeper and learn more about Tony Robbins and his philosophy, check out Tony Robbins books. They could be really helpful for you to improve your own life. Can't make it to a seminary with Tony? No worries. There are plenty of opportunities to study, practice and growth with certified leadership courses online.
Finally, if you are ready to check out a Tony Robbins event, there are plenty of options to choose from. From Unleash the Power Within – Virtual to Date With Destiny, the vast number of programs offered by Tony Robbins means there is something for everyone, no matter what area of your life you are looking to improve upon.