Last updated on November 29th, 2023.
Being a holistic wellness coach is a rewarding career where you help people achieve a completely healthy lifestyle. However, like any medical profession, it requires extensive training and licensing. While in-person training would be the best, sometimes you must acquire your wellness coach certification through an online provider. 
As with most other online certifications, you have numerous options available to you. As such, the best online holistic wellness coach certification will vary based on your needs and career goals. With that said, the following 5 programs are among the highest rated and most popular:
Nutra Phoria Holistic Nutrition and Health Coach Certification
IAWP Holistic Wellness Coach Certification
AFPA Health and Wellness Coach Certification
ASFA Health and Wellness Coach Certification
Choosing the right certificate program for you is not something you can take lightly. There are several factors you must consider before you even attend the first class. Therefore, by reading further, you will learn what these factors are and how these five programs stack up to them.
What is Holistic Wellness
On the surface, holistic wellness is an approach to overall health based on a lifestyle. However, this lifestyle encompasses numerous alternative health practices. This makes the popular wellness program difficult to describe as it can mean a variety of things. But generally, it refers to treating the whole person, including the physical, mental, and spiritual, to improve one's health, happiness, and well-being. 
The main goal of holistic wellness is to ensure that one's body, mind, spirit, and environment remain in balance with each other. To achieve that goal. practitioners strive to integrate lifestyle changes into medicines and treatments for various issues such as chronic or acute illness, diet, and various mental disorders. 
As such, most holistic wellness solutions typically involve:
Managed and self-care of the mind and body including fitness, diet, and nutrition

Emotional wellness and mental health

Spiritual healing and social wellness

Living an overall better life including improved personal relationships

Dealing with environmental factors and financial health
People love this approach to wellness as it gives them a deeper understanding of their physical and mental health. 
What does a holistic wellness coach do?
Holistic wellness coaches stand as mentors and experts in the world of wellness. They help their clients establish the best personalized dietary, emotional, and physical goals and needs. In doing so, they also help them find the right lifestyle choices and medical treatments to achieve those goals, lie a healthy life, and fuel their bodies. 
Because they have the skills, training, and passion, to improve their clients' health outcomes, professional holistic wellness coaches: 
Use Positive Psychology

– helps clients focus on their strengths to encourage behavioral changes

Promote habit reversal

– encourages clients to make better and healthier choices to change bad habits, manage stress, improve their diets, and so forth

Motivate

– helps clients visualize and work towards their health and wellness goals

Provide Supplemental Services

– offer or work with other providers for such services as counseling, talk therapy, healing touch, or reiki

Develop healthy meal programs

– for national, industry, and local policies and guides

Provide lectures

– on holistic wellness and behavioral change 

Host wellness retreats

– one-stop workshops for developing healthy lifestyles

Host Health and Wellness blogs and YouTube channels
However, holistic wellness coaches are not registered dieticians, licensed therapists, licensed nutritionists, or certified personal trainers, unless they also have those specific certifications or qualifications.
How do I become a holistic wellness coach?
Generally, people who aspire to become holistic health coaches require a commitment to helping others, adore healthy living and fitness, and formal certification in a particular wellness area. For instance, most professional coaches have at least a bachelor's degree in biology, nutrition, nursing, sociology, food science, or physical therapy. 
Despite the solid foundations these degrees provide, most holistic health coaching programs do not require these degrees to enroll. Most of them just require that you have a college degree or formal certification of some kind.
You might not even need a certification in holistic health to open a coaching practice in some jurisdictions. Though, acquiring one will give you a competitive edge in the field by showing your dedication and competency in the profession. You also gain access to a network of resources to help improve your practice and your client's health. 
However, the cost and effectiveness of health coaching programs can vary wildly based on platform, type, study materials, the support offered, program duration, and other factors. Therefore, you must choose the right one for you, your goals, and your budget. As such, you will want to:
Thoroughly research to find the right program

Seek referrals and advice from others already in the field

Enroll in your certification program and complete the course requirements

Complete practice sessions per your course requirements

Build a business plan for your wellness coaching practice and name it

Continue improving your skills
What is the difference between a wellness coach and a holistic wellness coach?
It is important to note that a holistic wellness coach is not simply a health and wellness coach. A wellness coach serves as a supportive guide for their clients as they establish and achieve health goals for themselves. As such, they are a vital member of a greater healthcare team, but they help devise meal plans, workout regimens, or lifestyle changes. 
On the other hand, holistic wellness coaches take a more encompassing and integrated focus and approach. While are not nutritionists or dietitians, they seek to aid their clients through dietary changes and environmental factors along with everything else. They also serve as living examples of practicing a holistic life themselves. 
How long does it take to become a holistic wellness coach?
Holistic wellness coaching certification programs tend to last between three months to a year. After that, you must pass the certification exam of about 150 questions. As such, you can expect it to take six months to a year or so to fully become a holistic wellness coach. 
The 5 Best Holistic Wellness Coach Certifications Online
Once you plan on being a certified holistic wellness coach, your next step is to find a suitable certificate program. Your best bet would be attending a live course near you, but that is not always an option. If you find yourself in such a situation, you will want the best online coaching certificate course available. 
As with most other online certification and degree programs, you will find numerous options in the holistic health and wellness coach field. However, most programs will likely not fit your career goals and local licensing requirements. Fortunately, the following five programs offer the training and resources you need to become a professional holistic wellness coach.
1. MindBodyGreen Health Coach Certification
If you are a more 360-degree approach to become as a top tier holistic wellness coach, you should look into MindBodyGreen. MBG's 20-week Health Coach Certification Program is fully accredited by the National Board for Health and Wellness Coaching (NBHWC). Coach 
The program provides a deep dive into several core health competencies such as:
Health and wellness

Interpersonal engagement and relationship building

Coaching structure and process

Ethics and law
For each of these components, you would receive comprehensive training through live elctures, interactive practice, online videos, and weekly evaluations to improve your skills retention and development. At the end of the program, you should be eligible for NBHWC certification and membership. 
For the privilege, the MBG program will cost you around $4,999, though you can reduce it to $2,499 if you just need the Nutritionist training.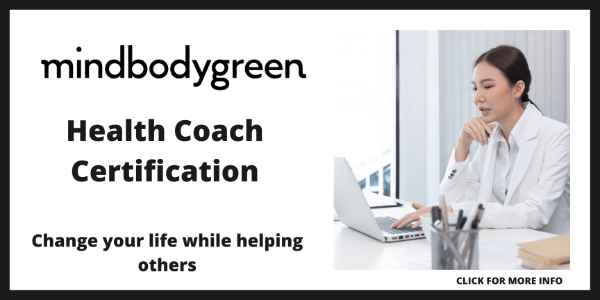 2. Nutra Phoria Holistic Nutrition and Health Coach Certification
Nutra Phoria offers a holistic wellness coach program that helps you dive deep into the relationship between nutrition, health, and one's lifestyle. Their 12-month curriculum focuses on how to assess the unique needs of you clients through a functional health perspective. With this knowledge, you can help them craft the right lifestyle and dietary plan for solving their physiological, mental, and wellness needs and goals. 
After graduating, Nutra Phoria will help you serve your clients with confidence with a well-rounded foundation. Their Nutrition & Health Coach Certification gives you access to the Health Coach Alliance (HCA). This membership can help you expend your accreditation even further if you need it. For instance, you could continue your Nutra Phoria education with their nutrition-focused Tier 2 program.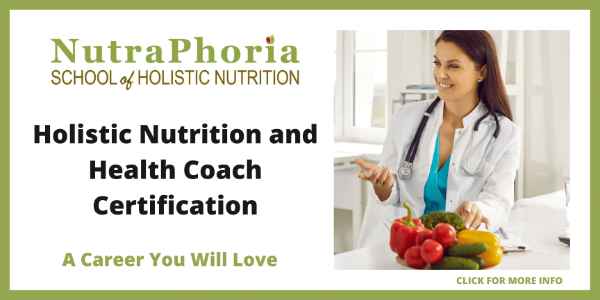 2. IAWP Holistic Health Coach Certification
While there is no globally recognized, and internationally-accredited holistic wellness coaching certificate program, the IAWP program is the next best thing. The International Association of Wellness Professionals (IAWP) provides you a strong foundation in both cutting edge science and ancient healing wisdom. They can even help you gain accreditation from their 80 participating organizations including:
American Association of Wellness Professionals (AADP)

Canadian Health Coach Alliance

Canadian Association for Integrative Nutrition

International Coach Federation
To get you there, the IAWP Holistic Health Coach program will train you in basic holistic health and wellness along with essential business skills with real-world experience. You will even work with wellness coaches to see what it is to be a client for a deeper understanding of their needs and problems. 
In the end, you will have the resources to help people obtain their wellness and life goals by balancing their body, mind, and spirit. You will also gain lifetime access to the IAWP community, faculty, mentrs, and resources.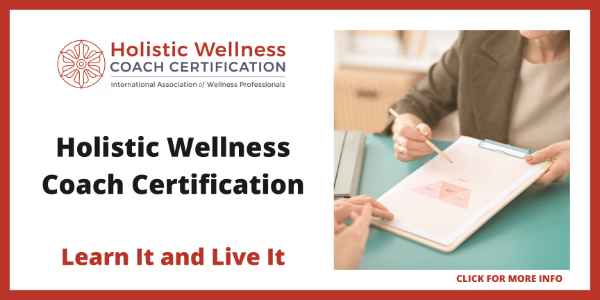 4. AFPA Holistic Wellness Coach Certification
The American Fitness Professionals Association (AFPA) holistic health coach certification is one of the oldest certifications available with 25 years of experience in different forms of wellness. The 6-month course lets you study at your own pace. That means your actual time in the AFPA program could be shorter or longer depending on your schedule. You can also choose between their:
Fully online-only course ($649)

Online course with physical materials and activities ($799)
Regardless of the path you choose, your education would focus on the key aspects of holistic health and wellness. In the end, you would have everything you need to help your clients effectively deal with different environmental conditions, health problems, behavioral issues, and personal needs.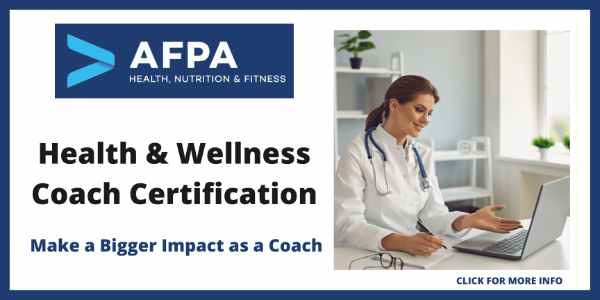 5. ASFA Health and Wellness Coach Certification
Finally, if you prefer an independent study approach, you should give the American Sports and Fitness Association (ASFA) online Health and Wellness Certification program. ASFA designed it to provide a foundation for fitness professionals to expand their knowledge and careers through holistic health coaching. The program lets you learn at your own pace by giving you 24/7 access to all training resources, including tests. 
Through the program, you will learn about the fundamentals of holistic health, nutrition, fitness, and wellness, coaching methodologies, and how to effectively health coach a wide variety of clients. ASFA even gives you three levels of competency that let you tailor your education to your career goals and needs. 
Health and Wellness Coach Certification – $299 – focuses on basic self-care, holistic nutrition, fitness goal coaching, and more

Advanced Health and Wellness Coach Certification – $349 – advanced health coaching techniques and wellness training, requires health and wellness coach certification 

Master Health and wellness Coach Certification – $399 – Master and expert level training, strategies, and advancement, requires Advanced Health and Wellness Certification
The advanced tiers provide a deeper understanding to the craft, allowing you to expand your practice even further. As such, they give you a competitive edge in the quickly changing and always dynamic health and fitness industry, and maybe even contribute to its advancement.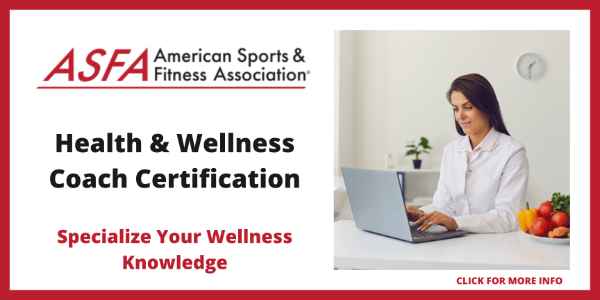 The Best Holistic Wellness Coach Certifications
The journey to becoming a certified holistic wellness coach is an empowering path that not only enriches your own life but also equips you with the skills to guide others toward holistic well-being. The array of exceptional holistic wellness coach certification programs presented in this guide offers a diverse range of approaches, methodologies, and comprehensive training. Each program opens doors to a world of transformation, where you can learn to cultivate mindfulness, inspire positive change, and foster a deeper connection between mind, body, and soul. As you embark on this fulfilling journey, remember that the right certification program aligns with your aspirations and values, allowing you to not only enhance your expertise but also make a profound impact on the lives of others. Ultimately, the holistic wellness coach certifications featured herein serve as gateways to a purposeful and rewarding career dedicated to guiding individuals toward holistic harmony and lasting well-being.