Last updated on September 23rd, 2023.
The study of the brain and nervous system captivates people for diverse reasons. Some harbor a strong desire to explore this field but may lack the means or inclination to attend a traditional college or university. Consequently, they ponder the existence of online neuroscience courses and inquire about the top options available.
The most reputable online neuroscience courses are those that culminate in certifications or degrees, as these credentials are key for a career in the various subfields of neuroscience. Such qualifications serve as tangible proof of an individual's comprehensive knowledge in the subject, a requisite for thriving in this dynamic field.
Skillshare
To gain insight into superior online neuroscience courses, it's essential to begin with a foundational understanding of neuroscience itself and the career opportunities it offers. Read on to explore the essence of neuroscience and discover the top five online courses in this field.
Neuroscience is the study of how the nervous system functions, evolves, and is designed. This discipline focuses on how the brain affects behavior and mental function. In combination with brain function, neuroscience also involves various disorders that involve the brain and nervous system.
Neuroscience is a combination of many different disciplines in the science field such as biology, chemistry, anatomy and physiology, and other areas that affect behavior and mental function. The specialization consists of neuroscientists who study the brain, molecules, nervous system connections, and their impact on human behavior.
Those who go into the neuroscience field typically are already fascinated with how the brain functions and have a desire to learn more. Since some classes in the area can be somewhat complex, it is essential to have a genuine interest in the discipline.
Can you study neuroscience online?
Between colleges and universities that offer online courses to websites, you have the opportunity to study neuroscience in a variety of ways. While some of these methods are free to those who want to gain knowledge, others are designed to provide either certifications or continuing education courses for practicing neuroscientists.
Since neuroscience covers a wide range of disciplines, you have the option to find courses that fit your interests. The great thing about taking these courses online is that you have more flexibility, as most are self-paced.
Additionally, the advances in technology have made the availability of such courses much easier and more accessible to a wide range of people. This means that those that cannot afford to go to university can take advantage of online courses from Coursera, Udemy, Skillshare, and more.
Online courses in neuroscience can be taken for several reasons, including those who are in the field and wish to further their knowledge on the subject. Others who desire to learn about neuroscience may be beginning their studies in the area and are looking for various certification programs through online courses.
What can I do with a certificate in neuroscience?
While certain neuroscience professions necessitate a degree in the field, others can be pursued with a neuroscience certificate. Obtaining a certificate in neuroscience serves as an excellent gateway into the field, whether you're seeking an initial foothold or already engaged in neuroscience practice. Such a certification can significantly propel your career.
It's important to note that neuroscience encompasses a multitude of disciplines, leading to opportunities in diverse industries, including healthcare, government, legal, education, management, psychology, and more.
Here are some career avenues available to individuals holding a certificate in neuroscience:
Research Assistant
Lab Technician
Clinical Researcher
Researcher/Writer for Scientific Journals
Administrator
Neuroeconomics Specialist
Health Educator
Research Scientist
While this list provides a glimpse into potential career paths, it's by no means exhaustive. Depending on your specific area of interest within neuroscience, a range of employment opportunities awaits those armed with a neuroscience certificate.
Do neuroscientists make a lot of money?
The potential income of a neuroscientist hinges on their chosen field of specialization, as various disciplines may necessitate differing levels of education beyond a certificate.
While many neuroscientists hold advanced degrees, some individuals have immersed themselves in the subject and achieved expertise through certificates. Salary ranges can vary widely across the diverse career paths within neuroscience, partly owing to varying educational requirements.
In general, neuroscientists can earn salaries ranging from $60,000 to $115,000 or even higher, depending on the specific role they pursue. Another influential factor in this broad salary spectrum is the geographic location of the individual. The cost of living in a particular area can significantly impact compensation rates.
However, the most pivotal consideration when contemplating a career in this field is not solely the earning potential but also one's genuine interest in the subject matter. While a lucrative income in neuroscience can provide many luxuries, it is vital to ensure that your passion for the subject will endure over the long term.
The 5 Best Online Courses in Neuroscience
There are many different online courses in neuroscience that individuals can take to either advance or begin their career in the field. While some of the courses can lead to a degree, others issue no more than a certificate of completion in the specific course.
It is important to note that because there are so many different topics that fall under neuroscience, there are a plethora of courses that are available for individuals to take. Finding the one that is right for you may take some time but is sure to be well worth the time and effort.
Although there are quite a few online courses in neuroscience, you will find five of the best online courses from various websites below.
1. Harvard University | Fundamentals of Neuroscience - edX
This Fundamentals of Neuroscience Course is offered by the edX website and hosted through Harvard University. The course focuses on the fundamental principles of neuroscience by way of learning the functions of the nervous system in general.
The course is broken down into three sections that focus on different areas of neuroscience, such as the electrical properties, neurons and networks, and the brain. The program is set up for students to have an in-depth understanding of the introductory areas of neuroscience.
Dr. David Cox, Assistant Professor of Molecular and Cellular Biology and Computer Science at Harvard University, is the instructor for this fundamentals course. The program is computer-based and is 100% online, and designed to be self-paced. 
The cost of this course is currently $456.30, which includes full access to course materials. The price also includes a certificate of completion. Most students are able to complete the course within five months if they spend 3-5 hours per week on the study.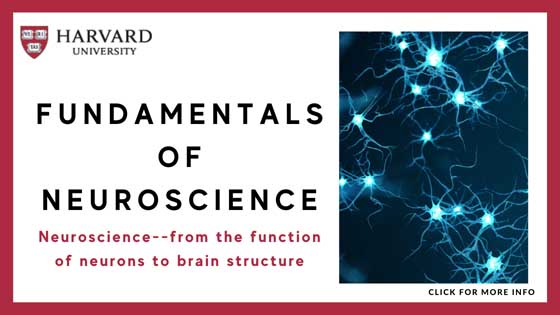 2. Medical Neuroscience – Duke University
This Medical Neuroscience Course is provided through Duke University and is designed for advanced neuroscience students. It is recommended for those already in the field of neuroscience and looking for more advanced credentials and possibly continuing education credits.
The course is broken down into six units of study that are designed to take about 12 weeks to finish. The units cover topics such as neuroanatomy, neural signaling, sensory systems, motor systems, brain development, and cognition. 
Dr. Leonard E. White, Ph.D., who is the Assistant Professor in the Neurobiology Department at Duke University, is the instructor for this Medical Neuroscience course. The program is 100% online and has self-paced flexibility, which makes it the perfect class for busy professionals.
The cost of this course is free to audit; however, with most Coursera courses, there is a fee associated with receiving a certificate of completion, which ranges from $49-$79. It is also important to note that financial aid is available with all courses taken through Coursera.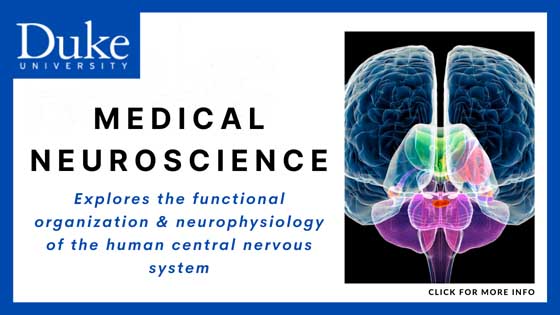 3. Computational Neuroscience – University of Washington
This Computational Neuroscience Course is offered by the University of Washington. The course focuses on the fundamental computational methods concerning the nervous system and how it functions.
Throughout the course, students will learn various principles that influence vision, learning, memory, and sensory-motor functions. While this is said to be a beginning course, some understanding of neuroscience will help students be more successful with the methods.
The instructor for this course is Rajesh P.N. Rao, Professor of Computer Science & Engineering, and Associate Professor of Physiology and Biophysics, Adrienne Fairhall. The course is designed to be 100% online and self-paced for greater flexibility. 
The Computational Neuroscience course, while flexible, should take students about 26 hours to complete. As with other Coursera courses, you have the option to audit the class for free; however, if you prefer to earn a certificate of completion, you will pay the given fee that ranges between $49-$79.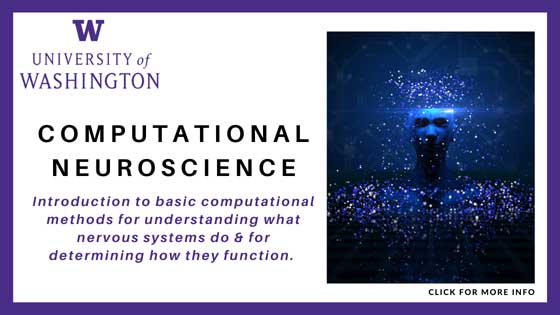 4. Leveraging Neuroscience in the Workplace – LinkedIn Learning
The Leveraging Neuroscience in the Workplace Course is provided by the LinkedIn Learning platform and is designed for those who want to learn how the brain works concerning the workplace. Throughout the course, students will focus on the areas of leadership, team management, and coaching in relation to neuroscience theories.
The course begins with an overview of the brain, how it works, and the various tools you have with you to deal with the pressures of work. The program continues with multiple theories on neuroscience in the workplace, team building, confidence building, and so much more.
Srini Pillay, a Brain Researcher, Author, Psychiatrist, and Executive Coach, is the instructor for this four-chapter course on neuroscience in the workplace. The course is 100% online and can be accessed on your computer, tablet, or smartphone.
Because the course is offered through LinkedIn Learning, the cost is $40, which includes a certificate of completion. The course is presented through about 19 video lectures and access to additional resources as needed. Throughout the course, there are quizzes to check for understanding of the material.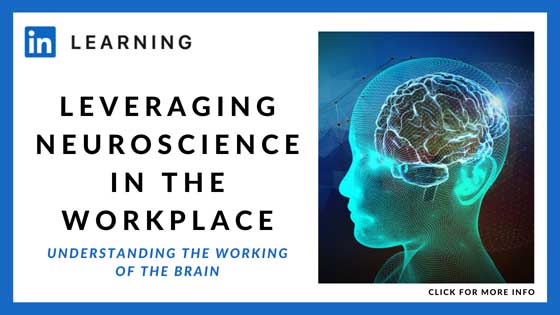 5. Learn Neuroscience: How Your Brain Works in Six Lectures – Skillshare
The Learn Neuroscience Course offered through Skillshare is designed to teach students the fundamentals of how the brain works and how the knowledge can be applied to your personal life. By understanding how the brain works, you will have a better understanding of why you and others do the things you do.
This course gives students an overview of the various theories in the neuroscience field that can be applied to everyday life. The professor focuses on how your brain works concerning your personality, imagination, abilities, and consciousness.
Dr. Andre Klapper, Ph.D., who is a Researcher, Neuroscientist, and Psychologist, is the instructor of this course that is given in just six lectures. He starts with an introduction followed by six information lectures and a bonus section.
The course is 100% online through the Skillshare platform and can be completed within about 45 minutes. It is important to note that while this course is a short one, there is a plethora of knowledge students come away with. The cost of the course comes with a subscription fee to the Skillshare platform.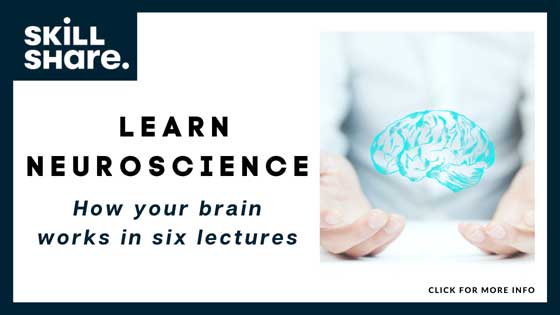 Final Thoughts on the Best Neuroscience Courses
When it comes to discovering online neuroscience courses, so many great options await. Many individuals exploring online neuroscience courses have varying motivations. Some are seeking continuing education credits to enhance their existing certifications, degrees, or careers, while others are driven by a thirst for knowledge to further their personal development.
No matter your specific interest in online neuroscience classes, the courses mentioned above should meet your requirements. Given the extensive range of disciplines encompassed by neuroscience, you can readily discover the ideal course for your needs through online searches.