Last updated on November 29th, 2023.
Miami emerges as a prime yoga destination, owing to its harmonious fusion of exceptional elements. With its consistently warm climate and picturesque natural landscapes featuring pristine beaches and lush parks, Miami provides an optimal outdoor setting for yoga enthusiasts. The city's vibrant and diverse community, embracing health and well-being, has fostered a wealth of yoga studios and events, ensuring a comprehensive array of options for practitioners of all levels and preferences. The multicultural fabric of Miami adds a layer of richness to its yoga scene, showcasing an array of traditions and techniques that allows practitioners to explore a broad spectrum of practices. In summary, Miami's amalgamation of breathtaking outdoor spaces, a thriving wellness ethos, and cultural diversity positions it as an unparalleled hub for yoga aficionados. Highlighting this, the following list presents the top five Yoga Teacher Training options in Miami, offering a comprehensive range of services to yoga practitioners in the Miami area.
The 5 Best Miami Yoga Teacher Trainings in Miami Are:
Learning to be a yoga instructor in Miami offers a unique and enriching experience. The city's vibrant yoga community and multitude of studios provide ample opportunities for aspiring instructors to deepen their knowledge and hone their teaching skills. Miami's diverse population allows for exposure to various yoga traditions and styles, fostering a well-rounded understanding of the practice. Moreover, the city's warm climate and breathtaking outdoor spaces create an inviting backdrop for outdoor classes and retreats, enabling instructors to explore innovative teaching methods and connect with nature. With a thriving wellness industry and a supportive network of fellow instructors, Miami provides a nurturing environment for those embarking on the journey to become yoga instructors, offering a wealth of resources, inspiration, and possibilities for personal and professional growth.
Are yoga teachers in demand in miami?
Yes, yoga teachers are in high demand in Miami. The city's emphasis on health, wellness, and an active lifestyle has created a strong market for yoga instruction. Miami's thriving yoga community, diverse population, and numerous yoga studios, gyms, and wellness centers contribute to a constant need for qualified yoga teachers. Additionally, the city's status as a tourist destination and its reputation as a hub for wellness retreats and events further increase the demand for experienced instructors who can cater to both locals and visitors seeking yoga classes. Overall, the combination of a health-conscious culture, a robust yoga scene, and a steady influx of yoga enthusiasts make Miami a hotspot where yoga teachers can find ample opportunities for employment and growth.
Do you need a license to teach yoga in florida?
Having a license to practice Yoga in Florida is not a state requirement. Yoga is generally considered a form of fitness and wellness instruction rather than a regulated healthcare profession. However, it is recommended that a Florida instructor specializing in a specific form of Yoga be licensed to provide instruction to class members. It's also worth considering obtaining certification from a reputable yoga teacher training program, as it can enhance your credentials and provide you with a solid foundation of knowledge and skills to teach yoga effectively and safely.
How much do yoga teachers make in miami?
Yoga instructors in Miami earn between twenty-four thousand and eighty-four thousand dollars annually. Depending on class size, location, employed instructors, and business size factor in the different elements required to make money as a yoga instructor. Miami yoga instruction ranges from private instruction to group classes based on business practices. You can also dive deeper and find the best affordable yoga teacher training online courses.
The 5 Best Miami Yoga Teacher Training
Miami is a low-cost area to live in, and with that also comes lower wages. Miami is an area of the country that realizes a zero percent state income tax, so the cost of living is lower, and the job market demand is also lower, making Miami the perfect place for retirees with plenty of time and money. In addition, people in Miami have plenty of space, from the keys to the Miami coastal waters that provide the perfect scenery for Yoga. 
1. Skanda Yoga Studios Offer a Variety of Training Methods
Skanda offers its students a four-month-long adventure with three and a half hours of weekend classes. In addition, a patron receives unlimited classes at Skanda Yoga when signing up for the two hundred-hour teacher training courses provided. Skanda is a Yoga Alliance-certified studio, so all graduates receive the RYT-200 certification upon finishing. 
Some of the more popular courses include: 
Assisting Students
Mythology and Philosophy 
Deep Meditation
Asana Practices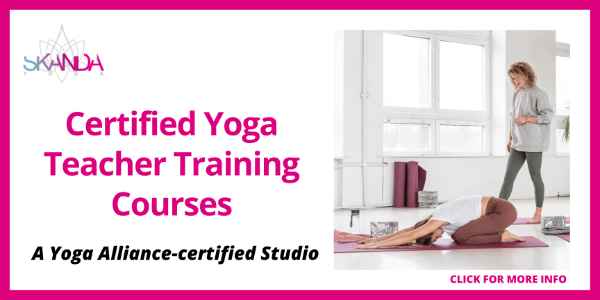 2. Synergy Yoga Provides Training for Kid Classes
Synergy Yoga in Miami offers classes that help teachers provide different styles to their clientele, including child yoga. Synergy also offers courses that teach Yin, Hatha, and others. The certification is international and can be taken anywhere. Classes are offered on an individual class basis and a course. Synergy Yoga provides rooms and retreats. They focus more on healing styles taught around the world. 
The sound healing course is among the most popular courses offered by Synergy Yoga. This studio greatly influences the eastern cultural aspects of the world. For instance, Reiki healing is provided with level one and two certifications. In addition, the bodywork certification has a unique Vedic Thai influence.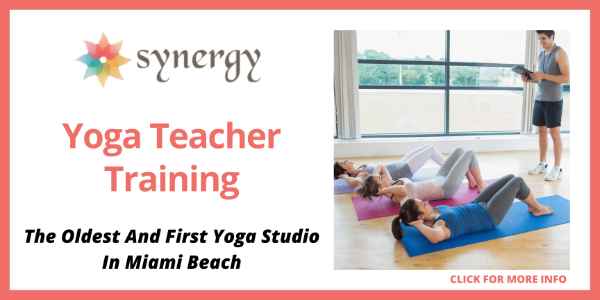 3. OmBeats Yoga Studio is a Registered Yoga School (RYS-200)
OmBeats provides training in several different categories. OmBeats uses a unique style with its prenatal and postnatal programs. In addition, OmBeats has a smart sequencing course that teaches the best way to do sequencing by far. Perfect for people with a busy schedule, OmBeats offers an online curriculum with most teachers, including a Live Stream Option. 
The downside is that OmBeats only offers the two hundred-hour course and nothing more. However, picking up on some of the side classes could help provide deeper insight into the philosophy and pillars of Yoga. The two hundred-hour course offers the entire curriculum, and a graduate can run a successful Yoga studio upon completion.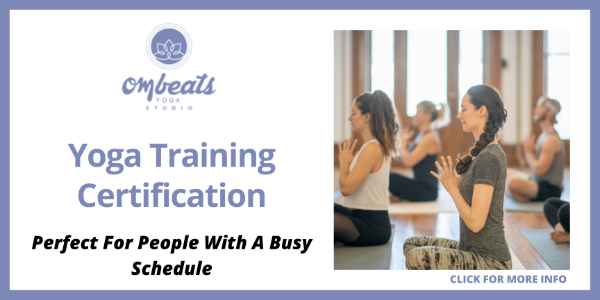 4. Green Monkey Yoga Offers Next Level Training Courses
Do not let the name fool you; Green Monkey Yoga offers a variety of courses to help an instructor in their journey. Yoga Alliance certified all training courses, including the two hundred hour certification, are available online and in person. Classes are offered nightly and on weekends. The curriculum is based on a set eight-week system. 
The best courses to take at Green Monkey Yoga are: 
Anatomy
Yoga Therapy Techniques
Asana
Sequencing
Alignment
Thai Body Work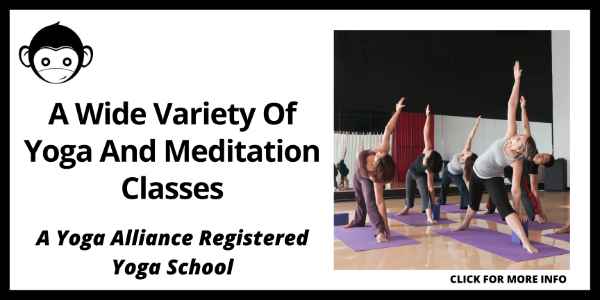 5. Ahana Yoga Teaches Advanced Level Asana
Ahana Yoga offers an in-depth experience of the advanced techniques of Asana. Ahana specializes in technique and alignment of the body with the chakras. Ahana also dives deep into the meditation and spiritual forces of Yoga. Learning proper sequencing and aligning that with the chakra are just some of the topics discussed at Ahana for the Two hundred hour course. 
Ahana is Yoga Alliance certified, meaning the training offered to qualify for the RYT-200 courses is eligible. In addition, Ahana provides a weekly and weekend schedule to accommodate a busy lifestyle. The teachings do not stop after the course; Ahana offers a wide range of additional Yoga teachings and retreats to members.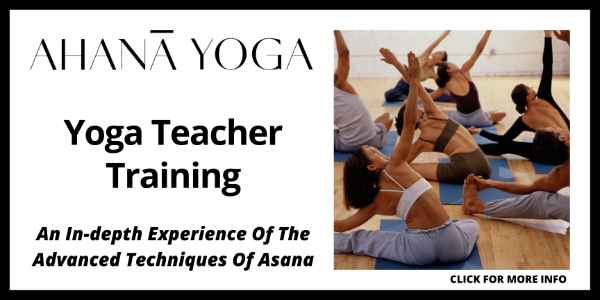 FInal Thoughts on Best Miami Yoga Teacher Trainings
Miami has emerged as a hot spot for yoga instructors due to several compelling factors. Firstly, the city's year-round warm climate and beautiful outdoor settings make it an ideal location for practicing and teaching yoga. The abundance of sunny days and picturesque beaches create an inviting atmosphere for outdoor classes, allowing instructors to connect with nature and offer unique experiences to their students. Additionally, Miami boasts a thriving and diverse yoga community, attracting instructors from around the world. This vibrant community not only fosters a sense of support and collaboration but also provides ample opportunities for networking and professional growth. Furthermore, Miami's cosmopolitan nature and multicultural population contribute to a rich tapestry of yoga traditions, allowing instructors to explore and share a wide range of styles and techniques. The city's emphasis on health and wellness, with a plethora of yoga studios, workshops, and retreats, ensures a high demand for qualified yoga instructors. Overall, Miami's combination of favorable climate, a thriving yoga community, cultural diversity, and a strong market for yoga instruction has established it as a highly desirable destination for aspiring and established yoga instructors alike. Alternatively, consider becoming a yoga expert by taking one of the amazing courses from this list of the best yoga teacher training in the world.