Last updated on November 28th, 2023.
Anxiety and depression are growing problems in society today, and mental wellness has become critical. The well-being landscape is shifting towards holistic approaches, and one practice that has increasingly gained recognition is breathwork training. Breathwork has gained popularity, and its followers have noted its profound impact on sports, fitness, and mind-body healing. The growing trends surrounding anxiety and depression are unfortunate but clear, and breathwork training emerges as a powerful tool to combat anxiety and improve mental health and overall well-being.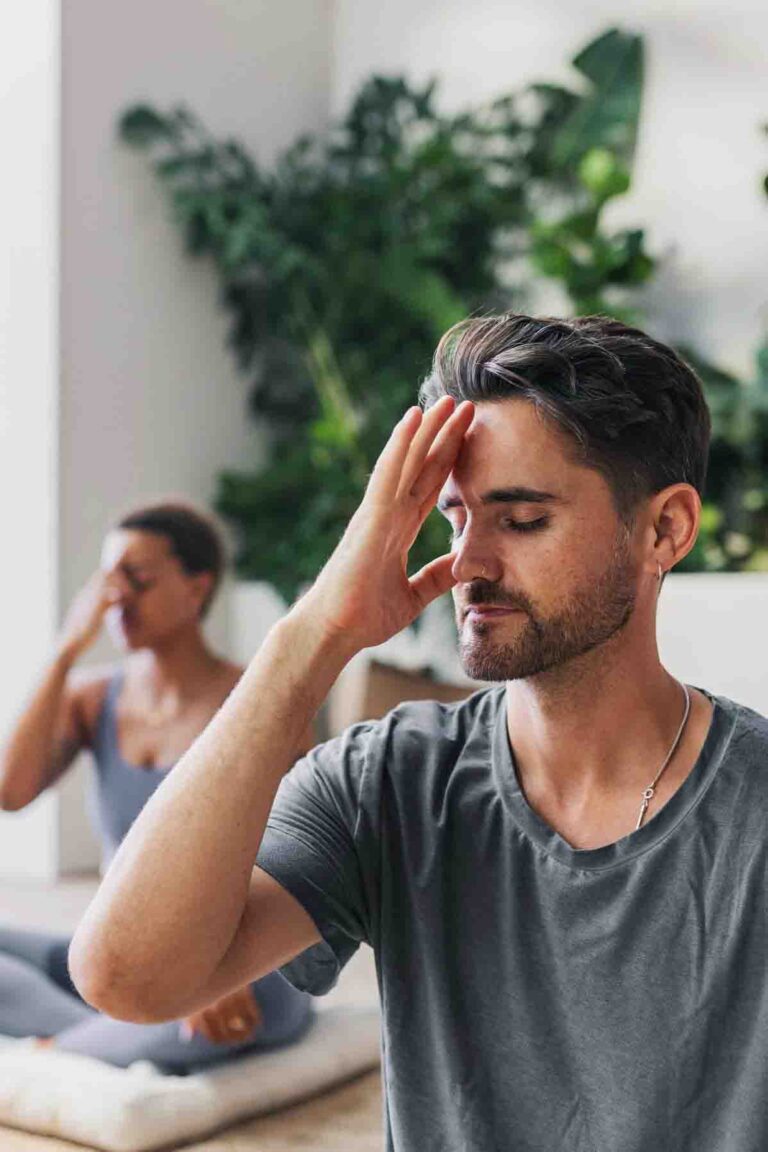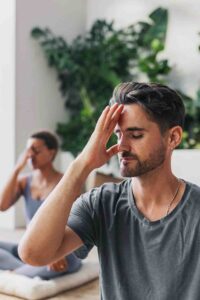 Life can be complicated and challenging, and the need for effective strategies to manage stress and enhance mental resilience is perhaps more evident today than ever. This article will explore some of the best courses in breathwork training and how breathwork can serve to combat anxiety and depression. Together, let's embark on a journey to unlock the potential of breathwork training and create a healthier mind and body.
Breathwork training offers many advantages, and online courses provide an excellent avenue for training. Here is a brief overview of some of the best breathwork training courses online:
These exceptional online courses offer valuable insights into breathwork practice and its broader applications.
Is it possible to learn breathwork online?
The short answer is yes. Online breathwork training has become more readily available after the COVID-19 pandemic. However, finding the perfect online program will require some research. You will want to understand which course will fit best with your schedule, how you prefer to learn, and a teacher that you can trust. Each course is different, and there is no one-size-fits-all program.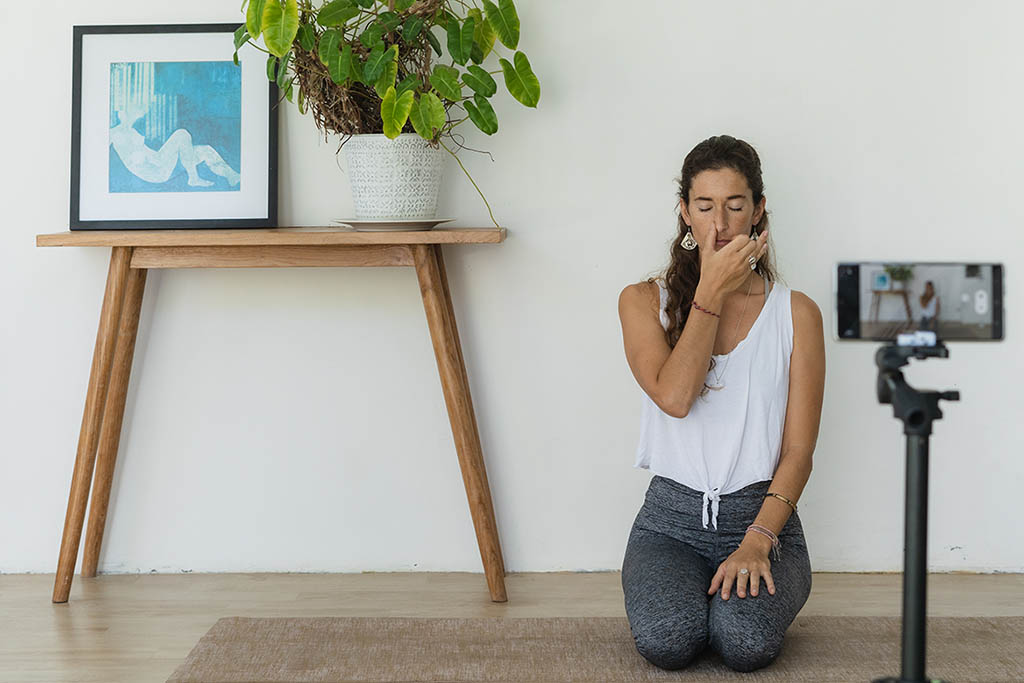 Is breathwork the same as meditation?
Some people refer to meditation and breathwork interchangeably, but there are several differences between the two. Breathwork and meditation have some similarities but are distinct practices. Breathwork primarily focuses on the intentional control and manipulation of one's breath. It often involves using various breathing techniques or patterns, such as deep or rhythmic breathing, to influence energy levels, reduce stress, or promote relaxation.
In contrast, meditation centers on quieting the mind and observing thoughts and sensations without judgment. While meditation can involve paying attention to the breath, it does not typically emphasize specific breathing techniques. Instead, it aims to cultivate mindfulness and inner stillness, helping individuals gain a deeper understanding of their thoughts and emotions while promoting a sense of calm and mental clarity. Both practices offer unique benefits, with breathwork targeting breath control and meditation focusing on mental awareness.
The 10 Best Breathwork Training Online
We have done extensive research on the very best breathwork training courses and summarized our findings for you below in more detail.
1. Loka Yoga School: Online Breathwork Training
Loka Yoga School offers a highly rated 20-hour online Breathwork Training program ideal for busy people. Taryn Weggelaar, the founder of Loka Yoga School, and her team will teach and guide you through 24 breathing techniques to change and improve how you currently breathe, help you reduce stress, and increase your overall well-being.
Loka Yoga School's breathwork facilitators, teachers, and yoga instructors are internationally certified and have traveled extensively to aid and support local communities. Some instructors also have medical degrees and use science-backed techniques to teach best practices for breathing.
Join their breathwork training and receive lifetime access. They also have bundles that include other programs like meditation or yin yoga. 
**THEMINDISTHEMASTER for $20 off**
Price
2. Aura Institute: Integrative Trauma Program
The Aura Institute Trauma program includes 40 hours of breathwork training led by Dr. Justin Ternes. This training is designed for yoga teachers, body workers, therapists/counselors, and coaches. It provides its students with integrative trauma-informed techniques that can be used in one-on-one and group settings. 
Breathwork is one of three modalities introduced in their level 1 training and gets students up to a competent introductory level, allowing them to lead breathwork classes. Aura Institute's training is a good mix of spirit and science; all of their trainers are doctors or therapists. 
Trauma breathwork is typically associated with Holotropic Breathwork®. While Holotropic Breathwork® can be revolutionary and nourishing, it can also be overstimulating for those with severe trauma and not sustainable as a self-guided long-term practice. Aura Institute teaches a technique that draws on the basic principles of Holotropic Breathwork®, used in a gentler, more manageable practice. In their advanced level 2 training, they introduce traditional Holotropic Breathwork® as a modality.
Price
Level 1
Level 2
Levels 1 & 2 Paid Up Front:
3. Breathe with JP: 5 Day Emotional Detox
In the quest for personal growth and self-improvement, the path to transformation begins within. Enter the Jon Paul Crimi 5-Day Emotional Detox, offering a lifetime of therapy condensed into five days. Learning to love oneself fuels a positive cycle of growth and self-improvement, creating a solid foundation for continued reshaping.
This course will enable you to 'transform what you feel on the inside to transform what you feel on the outside.' This concept takes on new dimensions when combined with a structured regiment of intentional breathwork. The course also focuses on clearing resentments and redefining old relationships. By addressing these emotional blockages, individuals can cultivate emotional freedom and foster healthier connections with those around them.
What's included
7 Videos with life-transforming exercises

4 Downloadable guided breathwork audio tracks

One downloadable PDF file

24/7 lifetime course access
At the heart of this process is understanding what truly matters. The harmonious alignment of one's core values and priorities provides clarity and purpose, guiding actions and decisions in a meaningful direction.
These are just some of the benefits of this course
Overcome fear and self-doubt and have authentic confidence

Clear years of trauma and emotional baggage

Develop new tools that you can use daily or in difficult times

Find new purpose, focus, and clarity

Develop self-worth and self-love

Rewire old belief patterns and replace them with new positive ones

Discover how to feel gratitude daily
Spearheaded by Jon Paul Crimi, this journey is compelling. The synergy of the program has been proven to be an influential catalyst for change toward becoming a bigger, better, and more robust version of yourself.
4. Breathworks Miracles: Trans Breath™ - Level 1
The Trans Breath™ Level 1 immersive course is crafted with care and expertise by Julie King of Breathworks Miracles. For nine days, two hours each day, you will explore a range of practices that extend from conscious connected breathwork to sound healing, Ayurveda, meditation, hypnotherapy, NLP, life coaching, and more.
The full-length program is Global Professional Breathwork Alliance (GPBA) and International Breathwork Foundation (IBF) approved, which means this Level 1 module is much more than basic breathwork training. Julie's multimodality approach ensures an authentic and impactful learning experience. The course guides you through the intricacies of each practice, providing you with a comprehensive understanding of how these practices make a difference.
You will learn the anatomy of the respiratory system and breathwork techniques, but Trans Breath™ is really about creating a safe space for personal exploration and emphasizing self-compassion. What sets it apart is the emphasis on raising your frequency vibration and learning to shift focus from negative to positive, creating a lasting impact on your overall well-being.
Specific breathwork techniques you will learn, but not limited to, are:
Bhramari pranayama
Box breathing
Dragon breath
Tao of breath
Conscious breathing is a choice, and these breathing techniques become your tools for truly living. Whether you're a seasoned practitioner or a newcomer, this course provides actionable insights into rebirthing, shedding old patterns, and embracing renewal. Breathworks Miracles guides you through proven techniques to overcome obstacles, rewire thought patterns, and unlock your full potential.
5. The Whole Health Project: Trauma Aware Breath Coach Training
The Whole Health Project presents an immersive Trauma Aware Breath Coach Online program, which spans over 35 hours and adopts a comprehensive, science-backed, holistic approach to breathwork, including an additional free 10-hour Trauma Aware program co-facilitated with Clinical Psychologist Lic. Begoña Garcia. This training is suitable for individuals seeking to deepen their personal breath practice and acquire a trauma-aware methodology to assist clients in overcoming a wide range of physical, mental, and emotional challenges.
This Yoga Alliance International (YACEP) registered training is for anyone desiring to deepen their breath practice and looking for a trauma-aware approach to support their clients in overcoming numerous physical, mental, and emotional challenges.
This breath coach training offers a pragmatic and nurturing approach to breathwork without unnecessary embellishments. It is designed to be accessible and straightforward, enabling individuals of all ages to benefit from it, ranging from young children to elderly individuals over a century old. While the training is self-paced, participants can have their questions addressed through monthly live Q&A sessions and an online forum where students can interact and share insights.
If you desire an impactful and transformative training experience that is affordable (for as little as $82/month) and supportive, allowing you to empower your clients with the profound healing potential of the breath, then the Trauma Aware Breath Coach Online Training is the ideal choice.
If you desire to add Yin Yoga or Meditation teaching to your practice, Whole Health Project also offers practitioner bundles. Sign up for the Trauma Aware Breath Coach program and the Meditation and Yin program to receive an even more significant discount on all three trainings.
Practitioner bundles:
6. Applied Yoga: Breath Work, Diaphragm Mechanics and Conscious Relaxation
The Applied Yoga Breathwork and Diaphragm Mechanics course by Jory Serota offers unique and in-depth advanced training that delves into the foundation of all yogic pranayama. Jory has 20+ years of experience in kinesiology and various disciplines, including competitive sports, and he's a sought-after NeuroKinetic Therapy Instructor.
This one-of-a-kind program equips individuals with a new toolkit to effectively work with pain, dysfunction, and hypertension, elevating their expertise to new heights. The Applied Yoga Breathwork Course is an exceptional opportunity to expand your horizons as a professional in yoga and movement. Through a strong emphasis on awareness and conscious relaxation, participants will learn to breathe correctly, harness the full functionality of the diaphragm, and deepen their experiences in both yoga and life.
Course Outline
Pranayama/Conscious relaxation. Lay the groundwork with foundational pranayama techniques and conscious relaxation practices, fostering a deeper connection between the breath, body, and mind.
Shallow diaphragmatic breath. Master the art of using the diaphragm to its full functionality, cultivating better control over breath patterns and enhancing overall respiratory efficiency.
Deep diaphragmatic breath. Building on the foundation, participants explore deep diaphragmatic breathing techniques, which promote relaxation, reduce stress, and activate the parasympathetic nervous system.
Deep diaphragmatic breath 2.0. Dive even deeper into advanced diaphragmatic breathing practices, refining your ability to utilize the breath as a potent tool for healing and rejuvenation.
Seated breathwork visualization. Discover the power of visualization in breathwork, unlocking a realm of possibilities to enhance meditative states and inner awareness.
Bringing breath to Asana. Learn how to integrate breath seamlessly into your yoga asana practice, harnessing its transformative potential to access different body parts and deepen stretches.
Restorative Practice. Explore the therapeutic aspects of breathwork and restorative yoga poses, fostering energy renewal and promoting overall well-being.
For $247, by the end of the Applied Yoga Breathwork Course, participants will not only have honed their expertise in pranayama but will also have gained valuable insights into the diaphragm's significance. Embrace this unique opportunity to master the breath and take your career to new heights!
7. The Peaceful Warriors: The Subtle Body, Breathwork Pranayama & Meditation
The Peaceful Warriors' 20-hour Subtle Body, Breathwork Pranayama & Meditation Course Module offers the flexibility of online learning, allowing you to study at your own pace. Upon enrollment, you gain immediate access to the course content, allowing you to immerse yourself fully or progress gradually. 
Key features of the course:
Comprehensive tutorials.

 Access a series of breathwork and pranayama tutorials covering their philosophy, practical application, and associated benefits.

In-depth masterclasses.

Engage in enlightening masterclasses exploring prana, the chakra system, the endocrine system, the philosophy of pain, and mindfulness.

Meditation and healing practices. 

Benefit from guided meditation sessions, including yoga nidra, as well as sound healing sessions.

Personalized support.

 Receive valuable feedback from senior lead teachers and have the option to take a personal chakra test and participate in a one-hour live consultation.
Here's an overview of what this module entails:
Exploring the subtle body. 

Gain a deeper understanding of the human body and mind by delving into its subtle aspects beyond the physical realm. Discover the energetic and quasi-material dimensions that shape our consciousness and learn how these aspects influence our well-being.

Breathwork and pranayama.

Understand the profound connection between breath, the physical body, the nervous system, and the mind. Learn various breathwork techniques and pranayama practices to transform your emotions, physical performance, mental state, stress levels, and sleep quality.

Personal insight and development. 

Unlock the potential for personal growth and self-realization by exploring the subtle body. Discover more about your identity, purpose, and path as you connect with the teachings of this module. Embrace these tools to reconnect with your authentic self and live a more fulfilling life.
The 20-hour Subtle Body, Breathwork/Pranayama & Meditation Course Module is an essential component of The Peaceful Warriors 200-hour Online YTT Pathway. With lifetime access to the course materials, you can revisit the content whenever needed, ensuring ongoing support and growth on your yoga journey. Enroll today for $150.
Use code MITM25OFF for 25% off at checkout.

8. YogaRenew: Breathing 101
Introducing the Breathing 101 course from YogaRenew, designed to enhance your understanding of the breath and its profound impact on the body. With just 5 hours of commitment, this course is perfect for beginners, as it requires no prior knowledge of anatomy. Anyone, regardless of experience, can follow along and benefit from the enriching content. Completing this course will grant you 5 CEUs with Yoga Alliance.
Course Highlights
Video lessons with illustrations provide a visual and engaging learning experience, ensuring concepts are easily grasped

Three invigorating video practice sessions allow you to apply the knowledge practically and connect with your breath on a deeper level

Dive into the intricacies of the respiratory system, uncovering the importance of oxygen in the body, and understanding how breathing is regulated

Explore the workings of the major muscles involved in breathing, including the diaphragm, and grasp the true essence of diaphragmatic breathing

Learn about the interplay between pelvic floor muscles, abdominal muscles, and breathing, expanding your comprehension of holistic well-being
Don't wait any longer. As long as you can breathe, you can follow along and reap the benefits of this $69 course. Join YogaRenew in exploring the art of breathing for a healthier, more balanced life.
9. White Tiger Qigong: Primordial Breath Qigong Online Course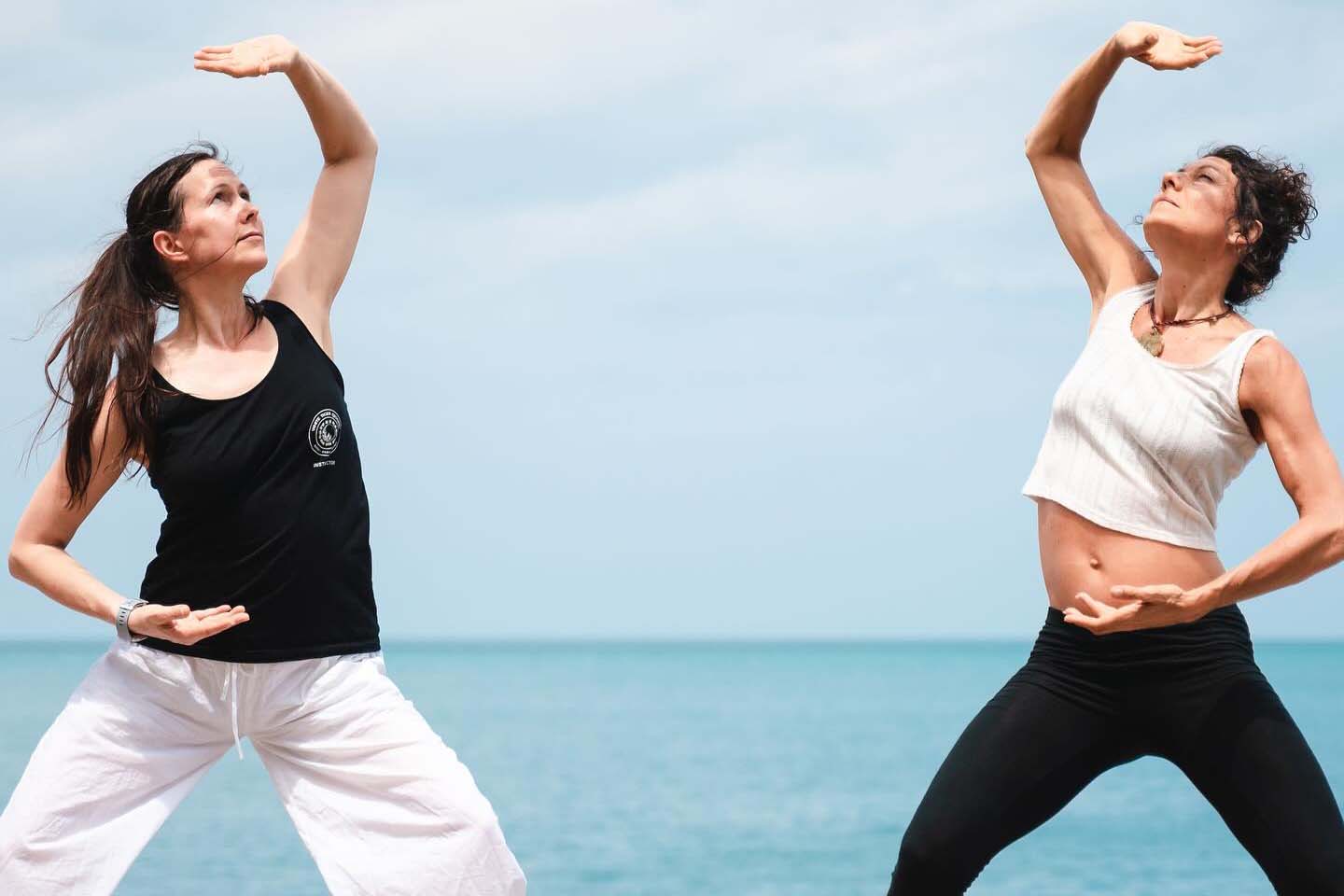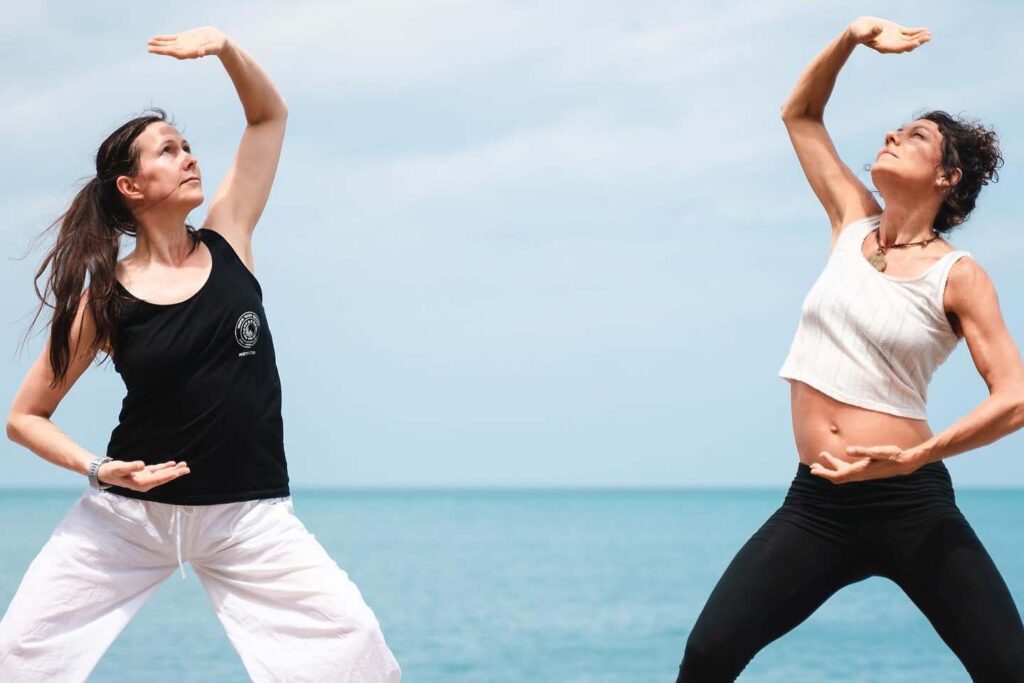 In a fast-paced world where stress and distractions are commonplace, finding inner peace and harnessing the full potential of our mind and body is becoming increasingly essential. Primordial Breath Qigong from White Tiger Qigong offers a time-tested and effective method to tap into alternate states of consciousness naturally, enhancing concentration abilities and fostering personal growth. 
This transformative practice is now more accessible through the Primordial Breath Qigong Online Course, a comprehensive digital platform that empowers individuals from various backgrounds to embark on self-discovery and empowerment.
What is Primordial Breath Qigong?
Originating from ancient Chinese traditions, qigong is an art that involves integrating breathing techniques, meditation, and gentle movements to cultivate qi, the life force energy. Primordial Breath Qigong is a specific branch of qigong that focuses on harmonizing and balancing the body's energy through deep breathing exercises and mindful movements.
Course Highlights
Unlocking consciousness states.

The course guides participants to access alternate states of consciousness naturally using deep breathing techniques. This leads to profound insights, creativity, and a deeper connection with the world.

Pulsing the third eye and Qi energy.

Participants learn to pulse qi energy to the third eye, enhancing perception and self-awareness. The course covers techniques for outward qi energy exchange and inward storage.

Downloadable MP3s and binaural Beats.

Convenient MP3 files enable practice anytime. Binaural beats aid in reaching deep meditative states, promoting relaxation and focus.

Animated lessons for enhanced learning.

Animated lessons vividly show qi flow and its impact on the body, facilitating a better understanding of the practice's principles.
For only $99, The Primordial Breath Qigong Online Course offers an incredible opportunity for individuals to seek inner transformation. Through the guidance of experienced instructors and the convenience of an online platform, participants can learn to tap into their innate potential, expand their consciousness, and experience the profound benefits of harmonizing mind, body, and spirit. 
Whether you are a seasoned meditator or a beginner looking to explore the world of Qigong, this course provides valuable tools for personal growth and unlocking the depths of the human experience.
10. mindbodygreen: The Ultimate Guide To Breathwork
mindbodygreen offers The Ultimate Guide To Breathwork, a practical, step-by-step guide to breathwork techniques. This course strives to reduce stress, clear energy stagnation, and connect to your life force to develop profound abundance in your personal, professional, and spiritual life. 
With this course, you will get
Three packed modules with 16 video lessons, filled with all the information you need to begin a regular breathwork practice
Detailed instruction on how to practice breathwork regularly to reduce overstimulation and live from calm and love
Guided breathwork sessions to address anxiety & control, sadness & anger, self-love & intuition, fear, insomnia and communication
Step-by-step guidance on how to use breathwork to achieve abundance in your personal, professional, and spiritual life
Lifetime access to stream from your computer, phone, or tablet
This class is for anyone who has been hearing about the power of breathwork and wants to give it a try, for those who feel overwhelmed and overstimulated, and meditation practice just isn't helping, for those who feel blocked and unable to move forward with big decisions in their life, for those who seek abundance in their personal, professional and spiritual life, and for many more people. 
With the completion of this course, students will gain important knowledge to help them be the best version of themselves. You can stream anywhere and at any time with an internet connection. So enroll now and get ready to live a happier, present, and calm life!
Why is breathwork so powerful?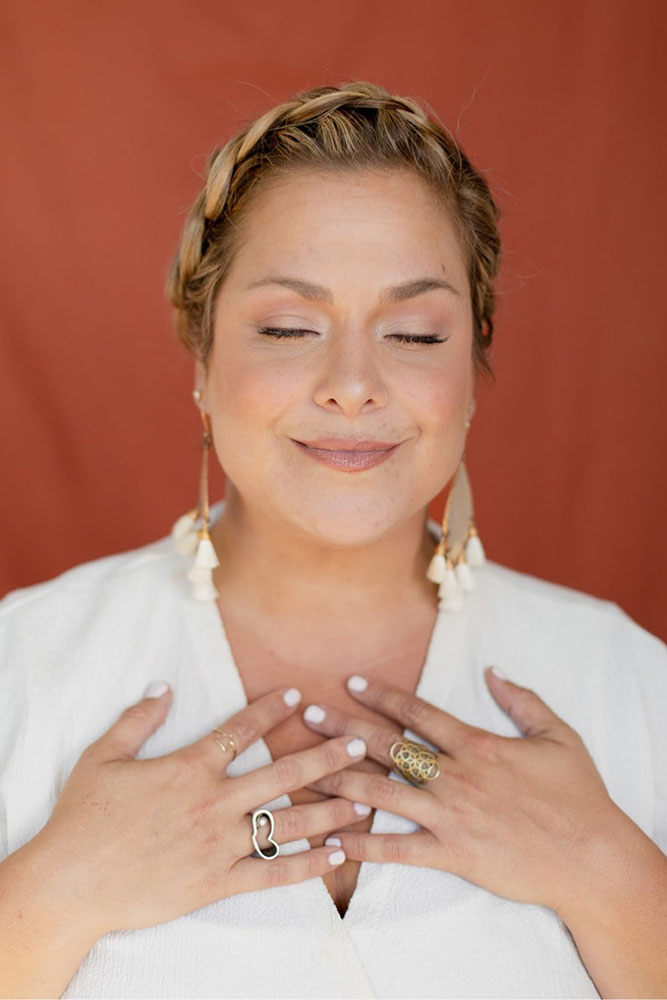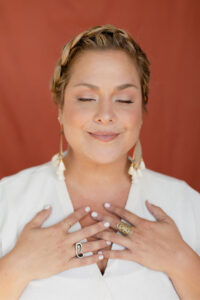 Take a deep breath in, and then slowly exhale. It seems simple. Underneath breathing lies a severe force that can significantly impact well-being. Harnessing the power of your breath can improve your life in ways you might never have imagined. Here's how breathwork can be a catalyst for change:
Mind-body connection. Conscious breathing connects our mind and body. Focusing on our breath makes us more aware of physical sensations, tension, and discomfort. This heightened awareness allows us to pinpoint areas of stress or emotional blockages within us.
Emotional release. Breathwork can release trapped emotions and unresolved feelings. We may encounter buried emotions or memories stored in our bodies as we breathe deeply. This release can lead to a profound relief from difficult past experiences.
Mental clarity. Consistent breathwork practice can quiet the mind and reduce mental chatter. This clarity of thought allows us to explore our beliefs, values and desires more effectively. It's like clearing away the fog to see our inner landscape more clearly.
As we become more aware of our breath, we become more attuned to our emotions, thoughts, and experiences.
Concluding Breathwork Training Online
Breathwork is an incredible practice that can enhance your life with many benefits. You can gradually incorporate it into your daily routine, and there are abundant online courses and resources available to help you begin right away.
Each of these online courses provides an opportunity to learn breathwork and offers flexibility regarding when and how you acquire these new techniques. Technology has made it easier than ever to access resources, making breathwork a seamless addition to your schedule.