Last updated on September 26th, 2023.
So, let's say you are navigating a new career path: yoga instruction. You've always been interested in it, but you are now taking the full force plunge into this career path. However, despite your certifications and experience, you may be unsure of how to find and land a job as one. 
To land a yoga instructor job, various tips can range from having your resume ready to practicing at home and attending and observing your local classes. However, it is essential to know what a yoga instructor is and what it entails to become an experienced one. 
Let's continue reading to learn about what yoga instructors are, what they do, how much they make, and seven tips for landing a yoga instructor job. 
What Is a Yoga Instructor?
So, what is a yoga instructor? 
A yoga instructor is a professional and well-trained certified instructor specializing in yoga teachings, which include becoming attuned with the mind, body, and spirit. 
The yoga instructor will perform different poses in front of various groups of participants, demonstrating them for the participants to imitate. However, a yoga instructor has more job responsibilities than just teaching in front of a group of participants. 
As we continue to read further, we will continue to learn about what a yoga instructor does.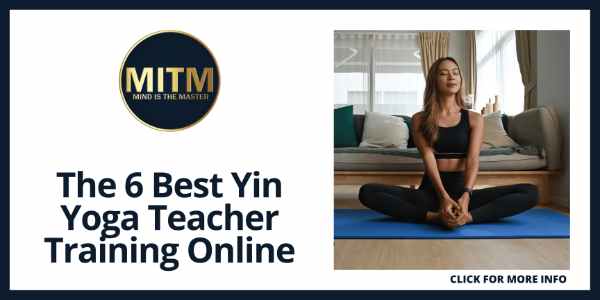 What Exactly Does a Yoga Instructor Do?
To become a yoga instructor, yes, does require you to demonstrate various poses and breathing exercises, but there are other responsibilities that a yoga instructor must do. 
Other duties that are required of a yoga instructor must do include: 
Make sure the yoga studio, or room, is safe and comfortable

for the students. 

Making sure that the yoga class is well-balanced.

Warm up the course first, then conduct the various demonstrations before getting to a cool-down stage, ending the lesson. 

While demonstrating the various poses and breathing techniques, ensure that you encourage your students

to where they can feel motivated to continue and are having fun. 

Assist the students if they are having difficulty obtaining the poses.

Ensure a connection between instructor and students, overall and one by one. And encourages continued practicing outside of the yoga studio/room. 

Keep a record of student attendance, progress, and other administrative duties

outside of teaching. 
Before doing the various yoga instructor duties, you must first become a certified yoga instructor. Let's continue reading to learn about how someone becomes a yoga instructor. 
How Does Someone Become a Yoga Instructor?
While you have a high school diploma or equivalent, you do not need a degree to become a certified yoga instructor. 
Another thing you need to become official is a yoga certification, which can be achieved by completing a 200-hour training to become a yoga teacher via various courses and programs. A way to complete this training can be through, for convenience, online, and there are multiple options to choose from. 
Along with working towards your training hours, you will also benefit from gaining more accumulated knowledge that can be implemented in your teachings. Once you've completed your 200-hour training, there are also options for other hundreds of hours of more training, up to 500. With this and experience of up to a minimum of a year, you can become a yoga instructor. 
Before, during, and after becoming or wanting to become a yoga instructor, people will often want to know about their salaries and how much they should expect to make. So, as we continue to read further into this article, we will learn about how much a yoga instructor makes. 
How Much Does a Yoga Instructor Make?
Generally, a yoga instructor's salary depends on your state and city. 
However, the average salary that a yoga instructor can make is around $40,000+ a year. There are often yoga studios willing to pay more by the hour if the instructor is willing to teach a larger class. But, you will have to teach many classes throughout the year to reach a salary such as this. 
However, there are other forms of becoming a yoga instructor and earning money via freelance work. Although this does not present you with a set-in-stone salary, you will have the opportunity to work in demand at your own time instead of a stricter schedule for a set hourly rate for a consistent annual salary. 
Nonetheless, salaries and rates aside, plenty of you may be nervous about applying for a yoga instructor job, thinking that you may not be good enough or you're not sure how to land one, to begin with. We'll continue to read to learn about some tips for landing a yoga instructor job. 
7 Tips For Landing a Yoga Instructor Job
For some, landing a job as a yoga instructor is difficult because they are not sure how to do it. It can be overwhelming to think about, but as we continue to read further, we will learn about seven various tips on how you can land a job as a yoga instructor. 
1. Determine How You Would Like to Do Your Job
Determine how you would like to become a yoga instructor. Is it online or in-person? Are you going for a full-time, part-time, or would you instead take the freelance route, teaching sporadically but controlling your schedule? These are questions that you must ask yourself before moving forward with seeking out to look for yoga instructor jobs. 
Have your resume written out and ready to be sent out. To become a certified yoga instructor, you will have to meet specific requirements and experience matters, so anything that you can think of will make you seem like a good fit, then add it. 
Practice and observe the yoga classes in your area. If you are trying to land your first job as a yoga instructor, you'll likely haven't a clue as to how to host one, so go to local yoga classes and observe the teacher while being their student. Amidst this, continue to practice your yoga, as well.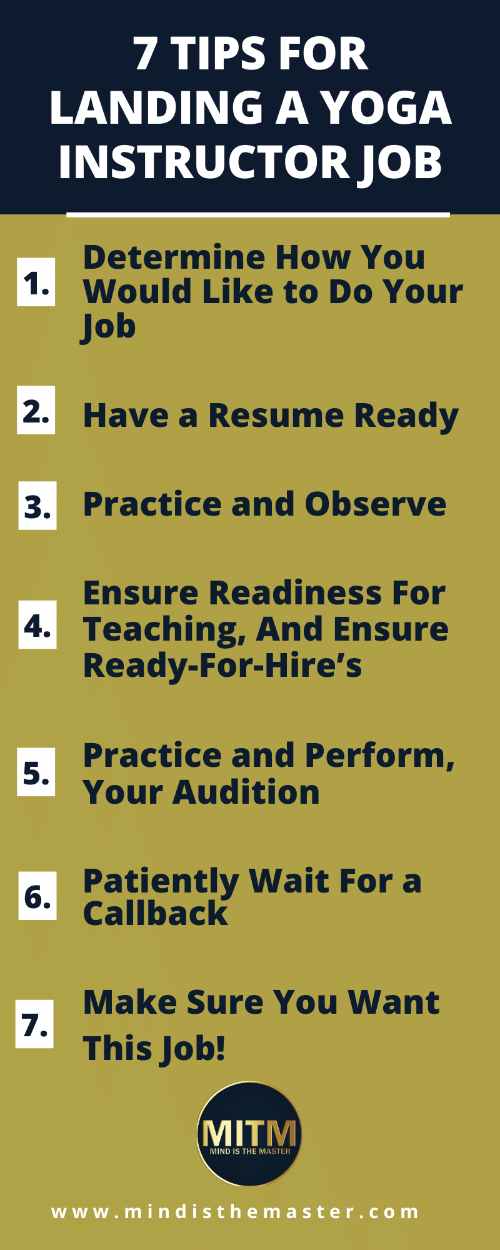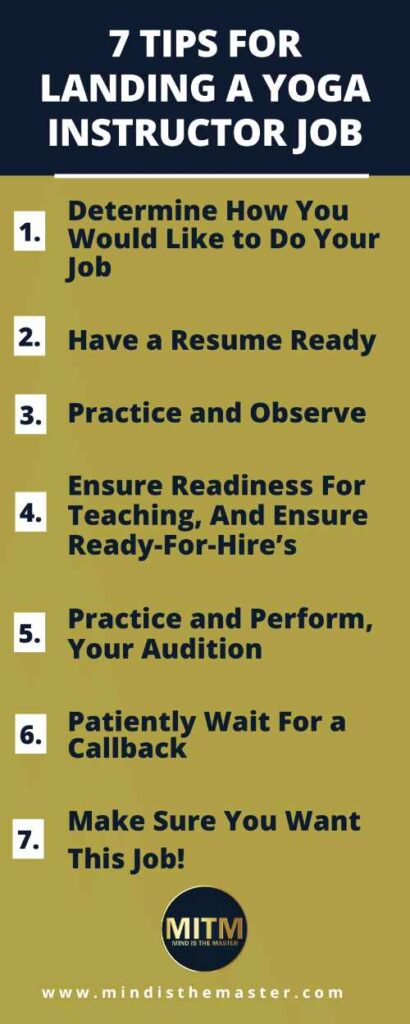 4. Ensure Readiness For Teaching, And Ensure Ready-For-Hire's
Ensure that you are ready to teach. Additionally, scope out the local yoga studios and ensure they hire and look for instructors. Once you've done this, you've made a list of studios you're interested in. Once you've done this, this has a pitch to present to the studio owner(s), i.e., your teaching style, certifications, etc. 
5. Practice and Perform, Your Audition
Getting a yoga instructor job isn't as simple as saying, "You're hired!" but it entails an audition process where you will conduct a mock yoga teaching class to see if you are a good fit for them. There's a minimum and maximum time limit for you to convince them that you have what it takes to teach at their studio. 
6. Patiently Wait For a Callback
You will often not get hired on the spot, so you'll have to wait for a callback. Patiently wait for that callback, do not let the nerves take over you. Continue to practice and allow yourself to also explore other options within your area so you're not left hanging on what to do.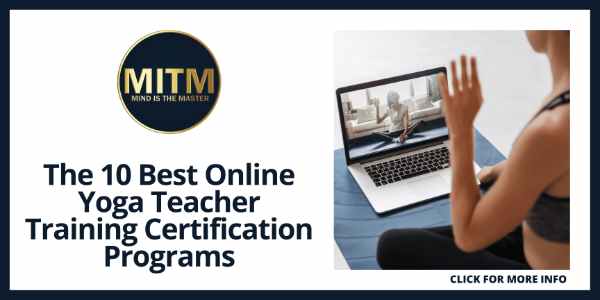 7. Make Sure You Want This Job!
Make sure that the job you are hired for is your desired job. Some people are not too choosy with where they work, as long as they work, but to others, this matters deeply because they want their job to be a mixture of fun and an overall enjoyable job that they look forward to every day.
Now that you know the seven tips for landing a yoga instructor job, you will have the tools to work towards landing such a job doing what you enjoy. Also, you have learned about what yoga instructors do and how much they make.